Hi. A few weeks ago, A guy opened a petition for Total Drama to be renewed for a new season. Later, he received a email from Christine Thompson saying that they were working for a new season of Total Drama AND Ridonculous Race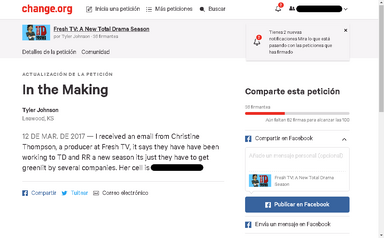 And that they need a greenlit for the series to be renewed. I think the creators are planning something; Since this year marks the tenth anniversary of the series. So, Do you think Total Drama will be renewed for a new season?
Ad blocker interference detected!
Wikia is a free-to-use site that makes money from advertising. We have a modified experience for viewers using ad blockers

Wikia is not accessible if you've made further modifications. Remove the custom ad blocker rule(s) and the page will load as expected.