Chef has creepily broad shoulders.
Welcome to another Whoops6 Review. Today I'll be reviewing "If You Can't Take the Heat...". This is one of many episodes written by Alex Ganetakos. How do you pronounce that? I think it's gain-tacos. Anyway, Ganetakos is a pretty controversial writer. He (I think he's a guy, I'm actually noy sure) wrote good episodes such as Heroes vs. Villains, and bad episodes such as every other All-Stars episode that he wrote.
Honestly, it's weird to see TDI episodes after watching RR.
In the recap, Chris didn't even mention Beth standing up to Heather.
There's a nice view of the cabins in the beginning.
I'm liking the Duncan-Geoff-DJ friendship. They feel like actual teenagers with actual friendships, not forced like it was in later seasons. In fact, the only real male friendships in the later seasons were between Mike and Cameron... whoop-de-do. I would've much preferred a Lightning-Scott frienship. Anyway, this is probably the most realistic friendship in the series, and one of the most entertaining. Unfortunatly, they don't really care much for each other after TDI.
I've always thought that the dolphin driving the truck is the most unrealistic thing in Total Drama. Then Season 4 came.
Geoff sees a bunch of meat, and automatically thinks Italian.
UGH BETH, YOU'RE REVERTING BACK TO YOUR OLD SELF.
How come everybody on the Killer Bass is carrying heavy boxes, but Geoff is only carrying a can of soup?
"I know how to boil pasta!"
Bridgette darling, that's not much of an achievement. All you do is pour the pasta into hot water and wait.
"Me and Sadie can rock the antipasto! I'm like a black-belt when it comes to cutting cheese!"
Why don't Harold and Sadie interact more? And Harold is probably the funniest character in terms of lines.
So in Courtney's confessional, she complains about Duncan and the camera speeds up. I could've sworn that LeShawna started knocking on the door saying "yo, hurry up" or something. Maybe it was a dream I had, but I SWEAR that scene happened.
Apparently stealing underwear is worth a killer soundtrack in the backround.
I love the Dorkahontas line XD. It makes no sense in this situation, but it's Harold! What's not to love?
Geez, what took the Gophers so long to get to the kitchen?
Harold has so many shirts, but he always wears that blue one with the purple hamburger or whatever.
I like DJ playing wingman. This is why DJ is one of my favorite characters. He's willing to help, and he keeps the show realistic. Seeing a Bridgette-DJ-Geoff interaction is very realistic, and very nice to watch.
"Kind of like my friend Evan's really hot mom!"
Oh, Geoff.
Say what you want about Mike and Zoey bonding over a maggot, but GWEN AND TRENT ARE BONDING OVER A PIECE OF HAM.
Trent dies. He deserves that for bonding with Gwen over ham.
I like it when Duncan makes fun of Courtney.
Beth keeps on walking after LeShawna stops her.
"I'm a team player all-right, but I'm also allergic to PINEAPPLE!"
I don't know why, but I love LeShawna's line XD. Maybe it's the way she said pineapple.
Was that close-up of Harold's butt really necessary?
Duncan and friends vs. Harold is nice.
Heather has bacon eyebrows. More like FACON. Anyone else remember that episode?
"ExcUSE me, I need a bathroom break!"
LeShawna, Heather just got burned. This isn't the time to be bugging her about your colon problems.
Harold's monologue was actually really sweet.
How did Geoff know that Harold would pick the underwear sandwich?
"It tastes like sweat and lotion."
HAROLD, THERE'S ONLY ONE EXPLANATION IF YOUR UNDERWEAR TASTES LIKE LOTION. FOR THOSE OF YOU WHO AREN'T GETTING MY DRIFT, LET'S JUST SAY HAROLD WAS PLAYING WITH HIS "MAGIC STEVE".
I actually want to see Harold in panties. What am I doing with my life.
Lindsay is investigating a pile of ashes.
Has Beth even said anything this whole episode?
"Girl needs to learn how to chill!"
OOH, LESHAWNA'S BACK ON HER A-GAME.
This is the second time Duncan referenced Courtney's butt.
Courtney just casually throws a metal bowl at Duncan's head.
Courtney, nobody was asking whether or not you liked Duncan.
I KNEW THAT SCENE HAPPENED.
Hey, Beth said something.
"Owen, guard the food."
FROM WHO? DO YOU THINK SADIE WAS JUST CASUALLY COME IN AND START EATING THE RIBS? Actually, that's a possibility.
"Your antipasto passed the test-o!"
Shut up, Chris.
I feel like I'm using too many unnecessary commas in this review.
How did the rib sauce get all over the ktichen?
"TELL ME YOU DID NOT JUST EAT THAT ENTIRE PLATE OF RIBS!!!"
MARRY ME NOW, LESHAWNA.
I actually loved it when Courtney and Duncan had a sweet moment and Chris was just like "ehhhhh".
Why would Chris continue to eat the ashes?
Do people actually believe this curse thing? Just when I was saying how realisitc TDI was.
I wished that we saw this dinner under-the-stars. I'd like to see a Geoff-Bridgette moment there.
"Oh, and if you ever team up with LeShawna against me again, I'll cut off all your hair while you're sleeping!"
AHHH, THE IRONY.
There's been way too many butt references in this episode.
How long has Heather been positioning her neck towards Beth? That's just awkward.
I've mentioned this before, but why isn't it spelled "marshmAllow"? It would make more senes.
Harold sleeps in the nude? Either that or Duncan stripped him overnight. Ooh, spicy.
All the girls jump into a lake to see Harold naked. He's quite the ladies man.
"I'll never leave my crusty underwear out again! I swear!"
My dad came into the room when that line played, and he was like wtf.
OK, so this episode was good, but had some things that need to be addressed. Kind of like the 4 most recent men in the White House. Beth wasn't hardly as good as she was last episode. Beth went full Kanye last episode, and now she was downgraded to Chris Brown. By the way, Donald Trump isn't looking as bad now that Kanye's in the race. Beth went back to her pre-Paintball Deer Hunter ways, which I didn't like. However, this is the last we see of old Beth. From here on out, she becomes BFFs with Lindsay, loses her braces, and becomes the writers new favorite character. I'll miss old Beth. On TDI Interactive it said that she had a pig named Big Bertha. I don't know what that has to do with anything, but it's a nice little fact.
What REALLY bugs me about this episode was the elimination. For the second time in a row, the writers made Heather so despised by her team,  that her elimination should be inevitable. It makes no logical sense to why they vote off Beth.The whole Boney Island curse thing was stupid. The reasons why the Gophers have been losing is due to the following: Izzy has a big mouth, Cody leaves crumbs in the woods like an idiot, and Owen has an addiction.
The Harold subplot was humorous. It's a nice distraction from the awkward main plotline of Beth-Heather-LeShawna. Harold always remained one of my favorite characters. When I was young I thought that Duncan, Geoff, and DJ were just being a-holes, but now I realize that there's just being teens. I like that. I'll always love Geoff's failed attempts at wooing Bridgette. I wonder what Evan's thinking if he's watching the episode.
By the end of the episode both teams are having internal struggles, which is a nice transition into the next episode.
My favorite characteer in this episode was LeShawna, because she's beautiful.
My least favorite character in this episode was Beth, because all the work put into her in the last episode was tossed into the trash. This is one of the many bones I have to pick with Alex Ganetakos.
This episode gets three out of five Sugars. There's been much better episodes, but I've seen worse.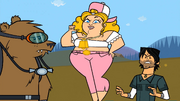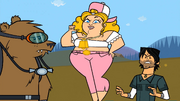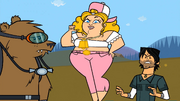 Ad blocker interference detected!
Wikia is a free-to-use site that makes money from advertising. We have a modified experience for viewers using ad blockers

Wikia is not accessible if you've made further modifications. Remove the custom ad blocker rule(s) and the page will load as expected.