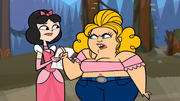 Hey, long time no see, eh? Anyways, everyone should know Sugar and Ella. Sugar has received a lot of...hate, and Ella has a lot of fans. Don't get wrong, I like them both a lot, as they are both in my Top 10. Anyways, since I seem to never see the EllaHater template, I was wondering if Ella got all the hate Sugar has. Would Sugar have a lot of fans or what? Let me your thoughts in the comments section.
TylerWebkinzFan wall * blog * contribs * edits 22:07, October 17, 2014 (UTC)
Ad blocker interference detected!
Wikia is a free-to-use site that makes money from advertising. We have a modified experience for viewers using ad blockers

Wikia is not accessible if you've made further modifications. Remove the custom ad blocker rule(s) and the page will load as expected.