Hey guys this is The Great Racer here with something I gotta tell. The first blog was a sucess with so many reviews.Obviously the main part of that was due to a flame war in the comments but I digress. Here is what you think of the first 3 eliminated teams.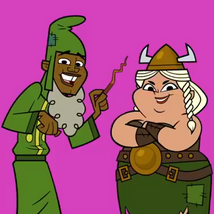 Leonerd and Tammy- LARPers
Returing from Pahkitew Island Is the wizard Leonerd and this time he is not alone. He has his friend Tammy along for the ride. Appearently you all thought that those two were first and guess what? You were right. Some of you actually like their backstory and I don't blame you. However some of you just did not plain out like them. Welp. They could have been a bit more interesting but I guess not.
                                                  Gerry and Pete -Tennis Rivals
Most of you already knew that the two of them were gonna be the first out. Many of you thought they were funny. Being the oldest contestants on the show it was obvious they would lose. However what people did like about them was their constant humor. That's all I can say.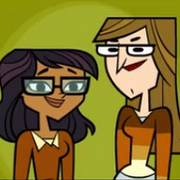 Ellody and Mary- Geniuses
Ellody and Mary before the show started were popular for their smart personalities. But when CN released the first 6 episodes their elimination was a surprise. Afterward not many people liked them they still had some amount of humor with Elloy being Not-Cortney and Mary looking like Amy Farrah Fowler.
So that was the first of many other blogs regarding what you think of the eliminated. And by the time of this blog's release The Vegans will have already been eliminated. So in the comments tell me what you thought of the Vegans for the next "Opinions of the Eliminated".