So after todays episode, I've done a lot of thinking, and here's a timeline/theory that I like to consider headcannon. Fresh TV has refereed to it as the "Drama-verse", so I call this The Drama-verse Theory.
Timeline
1991/92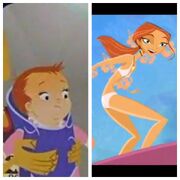 The events of 6teen occur.
2007
2008
2009
Evidence for Dates
Chris's birthday is November 18, 1978 and is stated to be 30 in Pahkitew Island, setting Pahkitew Island in 2009.

This sets All-Stars and The Ridonculous Race 1 in 2009 also, as they were confirmed on Facebook to be the same year.
This sets World Tour and Revenge of the Island in 2008, as they were a year before All-Stars.
This sets Island and Action in 2007, as they were a year before TDWT/TDRI.

Action is show to be airing when Stoked takes place, setting Stoked in 2007.

Emma is 16 in Stoked, and 1/2 in 6teen, making 6teen set in 1991/92.
Trivia
If Emma in Stoked and Emma in 6teen are the same, then Jen and Jonesy (main characters from 6teen) are related to the main character from Stoked.
Jen is the only character known to have a relation with more than two shows.

Emma from Stoked is (possibly) her sister.
She babysat MacArthur from The Ridonculous Race.

Noah, Owen, Geoff, and Leonard have all appeared in two series, Total Drama and The Ridonculous Race.
Ad blocker interference detected!
Wikia is a free-to-use site that makes money from advertising. We have a modified experience for viewers using ad blockers

Wikia is not accessible if you've made further modifications. Remove the custom ad blocker rule(s) and the page will load as expected.