Okay, before I start this blog, here's a little spoiler about the next episode that will shock you all. Do you know who will write episode 8 of RR? SHELLEY SCARROW! Do you know who's that woman? Well she wrote many episodes for the first 3 seasons of TD, such as "Phobia Factor", "Trial by Tri-Armed Triathlon", "Aftermath: Bridgette Over Troubled Water," and one of the best episode of the TD franchise ever, "Planes, Trains, and Hot Air Mobiles." So yeah, i'm really excited for epiosde 8.
Episode 7 was alright. Nothing incredibly bad happened in here, and only just a few characters annoyed me. Plus points for using my country. Plus points for making my country the horror themed episode. I give it a 8.5 out of 10 points.
Rock and Spud - nothing has changed. Rock is still likeable while Spud is still a waste of space, and also an *** to his friend. Honestly, it's been 7 episodes already, and there wasn't atleast 1 episode so far where they got a lot of focus. I want this team gone, even if I like Rock. 6/10
Dwayne and Junior - Their confessional was HILARIOUS. Finally an episode where I liked both! Junior was funny and cool as always, and Dwayne didn't say or did anything offensive. Can we just talk about how Junior likes Justin Beaver? EW! 7/10
Lorenzo and Chet - They still annoy me. Why are they always fighting when they are running? Atleast we learn more about their characters. Chet is good at gymnastics, and Lorenzo is good in karate. But they still need to do a lot more to impress me. 5/10
Mickey and Jay - I forgot to mention how much I loved those green inside in the coffin scenes. Mostly because of the animation. I like how this spin-off tries to be more realistic. Anyway, Jay and Mickey were.. okay. Mickey's voice was cute when he cheered for his brother, and I also liked how he tried to win the coffin challenge. You see? As long as they don't put that sad music in, these 2 can be watchable. 7/10
Geoff and Brody - Let's say it. This team has the most amount of interactions with the other teams so far. They had one with Adversity twins, Geniuses, Sisters and even one with the Stepbrothers. I like this team, and I definitely ship them <3 I like Gidgette as well, but Brody x Geoff is just so hawt.  <3 they were really funny in this episode 8/10
Noah and Owen - Umm.. yeah. Owen's line was funny with him wanting out from the coffin when he heard the word "Ice cream". Noah x Emma is.. weird. I ship them, but c'mon, seriously? She just did a backflip! I bet Noah only liked it because he saw Emma's butt. Who wouldn't crush on her? Like really, out of every girl in this show, none of them have as big of a butt as Emma does.  ͡° ͜ʖ ͡°    7/10
Taylor and Kelly - .. yeah. 5/10
Emma and Kitty - I liked their interactions with the Surfer Dudes. I knew Kitty will like them because 1) All 3 like parties and 2) Kitty wanted hot guys and Geoff and Brody are pretty hawt. Emma was eh. I didn't dislike her, but she didn't really do anything to make me love her. But her butt needs an appreciation blog. 7/10
Sanders and MacArhur - MacArthur's humor is back! I adored the scene where MacArthur protected Sanders (there were 2 scenes btw), and when she was fighting with Josee. It makes us think that, after all, MacArthur does like Sanders, but she doesn't really show it that often. Sanders was also alright. I'm glad this team is great again. 9/10
Carrie and Devin - Yay, Carrie had a mini interaction with the fashion bloggers. Devin is still bland as hell. The male Zoey. 6/10
Tom and Jen - Wow. Just wow. Making them hate eachother and then getting back together on the same episode? Wow. I liked them in here, I also liked their development. Also, that sweet and cute talk during their last minutes. I definitely ship them now. They need to return! 10/10
Crimson and Ennui - These 2 are just getting more and more comedy gold since episode 5. Now I know why Christine and Julie likes them so much. I like how this team was so hated back then when the episode was leaked, and now they are one of the most well-liked teams. (Ella anyone?.) 10/10
Josee and Jacques - JESUS JOSEE CHILL OUT! Josee is my spirit animal. Trying to hurt a 13 years old child 2 times in row. Iconic. (She even succeed in this one when she pushed Sanders at Junior). I can see Josee ending up in a jail. Gurl is psycho. I can see her killing people if she loses this thing. Jacques was hot as always. I feel bad for him though. Josee creeps me out. If she would exist, I would pee my pants at her. Giant Spiders are nothing compared to her. 10/10
Stephanie and Ryan - I loved these 2. Glad they are not TDA Geoff and Bridgette anymore. BUT JESUS STEPHANIE CHILL OUT OMG. How did I not notice the development of dis gurl in the past 6 episodes? Just like Josee, she was also a psycho. A great psycho. I hope she stays like this forever and ever. Ryan was hilarious at the gymnastics challenge. Now I ship Ryan with Jacques and Stephanie with Josee. Help mah! 10/10
Overall rankings:
14th. Taylor and Kelly
13th. Lorenzo and Chet
12th. Rock and Spud
11th. Carrie and Devin
10th. Owen and Noah
9th. Mickey and Jay
8th. Emma and Kitty
7th. Dwayne and Junior
6th. Geoff and Brody
5th. Sanders and MacArthur
4th. Jacques and Josee
3rd. Stephanie and Ryan
2nd. Tom and Jen
1st. Crimson and Ennui
Funniest moment:
Best characters of the episode: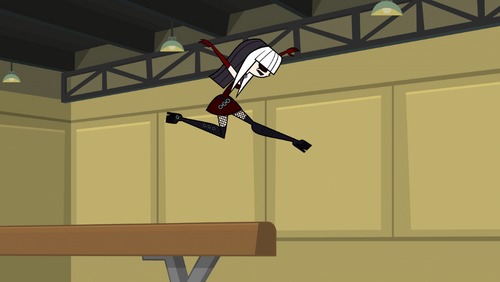 thank you for reading!
Ad blocker interference detected!
Wikia is a free-to-use site that makes money from advertising. We have a modified experience for viewers using ad blockers

Wikia is not accessible if you've made further modifications. Remove the custom ad blocker rule(s) and the page will load as expected.