Carrie and Devin - They got less screentime in this episode. I really don't remember them doing much besides Carrie drawing Devin NAKED in the caricature challenge. Oh my God, Carrie, chill your hormones, gurl!  Devin's line was pretty dumb btw. "Too realistic", I think the guy has some mental problems. How can he not see that Carrie wants him? Whatever. 6/10 for Carrie. But gurl, chill your hormones! She's starting to become the new Sierra with this Devin crush.
Stephanie and Ryan - Finally they did something! Ryan is one hot guy btw. I still don't get why did they make him look like a giant. They didn't get my attention until Ryan lost both of the oars. and Stephanie made a Scarlett/Courtney face. This team is starting to become more interesting. But they still get a 6/10 from me.
Dwayne and Junior - They appeared at the beginning. That's all I remember. Yeah they were pretty forgettable in this episode. I think I was a little bit rude with Dwayne in my last review. I'm sorry. I still hate him tho. Junior on the other hand.. somebody made a theory on tumblr about Junior secretly being a girl. It would be cool. lol. 5/10
Owen and Noah - This will be big. For some reason, they get a lot of hate on deviantArt. People say Noah is OOC. Now let me just say that Noah isn't OOC. He's actually starting to develop. He wants to win, he doesn't want to loose anymore. (that's what he said in episode 1) Owen is the complete opposite of Noah in this situation which completely annoys Noah. I clearly predicted that this team will be like this. Also, people say Noah is not sarcastic anymore. People seem to forgot that he's 19 years old now. He started to become more mature and like I said, Owen doesn't. I don't get what people thought these 2 will do. To me, this was the best team of this episode. Owen was the funniest character of this spin-off so far, while Noah is starting to become more and more like Emma. I liked this team, they were funny. But they got too much screentime. They were obviously the main focus of this episode and the fact that they weren't the eliminated team.. THANK GOD! If you know me, you know that one thing that I really hated about TDPI were the predictable eliminations. The eliminated contestant was always the main character in his/her elimination episode (Leonard, Amy, Rodney, Ella, Topher, Dave, Scarlett). Overall, this team gets a 10/10 from me.
Sanders and MacArthur - They are still a great duo. MacArthur is funny as hell and Sanders is okay so far. I get why MacAthur is hated for her attitude, but I can't help, but like her. Also, I still love the rivalry between them and the Ice Dancers. 8/10
Jacques and Josee - I don't remember them doing the caricature challenge but they were really great when they forgot the oars. Jacques's accent still cracks me up. Scott McCord should really get some award for this. He and Owen or Trent sound NOTHING alike. Overall,  i'm still waiting for these 2 to sabotage someone. 8/10
Mickey and Jay - I remember them getting scared. That's it. Overall, forgettable. 4/10
Emma and Kitty - I still adore this team. Emma doesn't hate her sister. She just wants her to be more mature and care about the game. She's like a normal sister but she was a little bit too rude to her in the second episode. Also, nice development with the Jake part. Kitty is adorable. Her caricature looked A LOT like Heather lmao 9/10
Ennui and Crimson - Crimson sadly didn't talk (again) but every line of Ennui is comedy gold. I mean, I haven't laughed this much since Noah's lines in London. Just talk, and I'll love you. 7/10 (also, Ennui's caricature was really well made)
Taylor and Kelly - Another Taylor backstory. I like that we know more about each character in these episode. Her caricature deserves some Awards btw. Kelly is a nice mom. Overall, I really liked this team, even if they didn't have that much screentime. 8/10
Laurie and Miles - I was loling when I saw them on a bike. They are clearly vegans and love mother earth. Also, what they usually eat.. I'm loving these 2 so far. 8/10
Gerry and Pete - They were pretty unlikeable when they mocked the vegans. But they were funny. Also, i'm the only one who noticed they haven't fought with eachother in this and the second episode? Weird. Anyway, i'm not really sad they got the boot. 6/10
Tom and Jen - Second funniest duo of the episode for me. Especially Jen. It's cute to see them interact with eachother. I get why many people think these 2 are annoying, but I really love them so far. 8/10
Rock and Spud - Rock made a caricature of HIMSELF. I really hope it was just a goof. Anyway, this team had no lines and it's basically the second most boring pair of this season so far. I can predict Spud will be really annoying while Rock will be likeable but his partner will really drag this team down. Please, DO SOMETHING AND HAVE A STORYLINE FOR GOD'S SAKE. 4/10
Ellody and Mary - It's been 3 episodes so far and Mary still didn't say a single word. With Crimson, it's kinda funny. With Mary, not really. And now in this episode, Ellody didn't speak either.  WHY IS THIS TEAM SO LIKED? Honestly, this is the most boring team so far to me. I hope they will get eliminated already along with the rockers and the stepbrothers. 3/10
Lorenzo and Chet - The Geniuses and Rockers are just boring so far. This team is not only boring, but it's really annoying. The fact that they got good rankings really surprises me. Atleast Chet had a funny line last episode. They barely even appeared in this one. I'm hoping they go home early or just fix their relationship already.. 3/19
Overall rankings as of this episode:
17th. Lorenzo and Chet
16th. Ellody and Mary
15th. Rock and Spud
14th. Mickey and Jay
13th. Dwayne and Junior
12th. Geoff and Brody
11th. Gerry and Pete
10th. Carrie and Devin 
9th. Stephanie and Ryan
8th. Ennui and Crimson 
7th. Taylor and Kelly
6th. Laurie and Miles
5th. Jacques and Josee
4th. Sanders and MacArthur
3rd. Tom and Jen
2nd. Emma and Kitty 
1st. Owen and Noah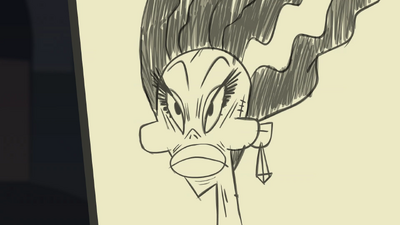 Ad blocker interference detected!
Wikia is a free-to-use site that makes money from advertising. We have a modified experience for viewers using ad blockers

Wikia is not accessible if you've made further modifications. Remove the custom ad blocker rule(s) and the page will load as expected.