Welcome back to DipDap's reviews! Sorry for the long wait. I'm having a very busy week with high school this week. Today's episode is written by Miles Smith again. Wow. The guy is on fire this season. Anyway, I really liked this episode. Besides the Daters, every team had some funny lines and good amount of screentime. Also, no Noah face pictures anymore. Sorry. :(
Stephanie and Ryan - Yeah, I'll start with the team that I liked the least. Both acted like little kids this time with the "Yes, Stephanie" and Stephanie just complained. That's the only thing they did in this episode. I wonder if Stephanie will get some karma at her last episode, but I doubt since Taylor was also a "negative" character and the only karma that she got was realising that she's not good at anything. Hmm. I'm the only one who ships Taylor and Tyler now? Yes? Oh. Back to the Haters, I don't really like them, but I definitely wouldn't want to see them DEAD like some other users in here... 5/10
Carrie and Devin - "I swear if Devin ends up goth, I definitely won't go goth for him... Yes I would." And people say Carrie is not funny. Well compare this line with Zoey's "Eggbutt" line. Which one is funnier? Anyway, both were okay, but they were mostly in the background. They will get better in the next episode. Both of them. 7/10
Emma and Kitty - I'm in love with Emma's laugh. It's not the best tho. Jasmine's laugh will always be my favorite. This team, just like Carrie and Devin had some focus at the start, but were completely ignored till the end. I liked Emma and Noah's kiss scene. I'm happy this relationship didn't end up like Skave. I just hope, if the Sisters won't win the million that Emma will still like Noah. If she will dump him for not winning the million, then she will be just as hated as Stephanie now, or even more. 7/10
Geoff and Brody - These two have my heart now. Not only are they incredibly cute together, but now they showed how much of a heroes and likeable characters they are (and they will show more of their heroic side in a future episode). I liked the scenes with them and the Cadets, and that nipple scene at the start of the episode.. Gold. Just Gold.  8/10
Owen and Noah - First episode since None Down Eighteen To Go - Part 2 where I found Noah to be hilarious. He had a bunch of good lines and that gay joke.. Gold. Owen was also hilarious. I expected way more fart jokes with him this season tbh. I'm glad they also got a happy ending, and Noah's development was fine. So it's pretty much confirmed that Owen is the canon winner of TDI. Mkay. They will be in the next season of... nobody knows. If TD, then I doubt many people will like to see Owen again. Anyway, I really liked them in this spin-off. Owen wasn't this funny since TDI imo. I just expected way more jokes from Noah. I mean, he had literally 0 lines from episode 3 to this episode. (Only the faces that he made were hilarious). 9/10
Sanders and Valentina - They have been pretty bad in the competition as of lately.. sad since they are my favorite team tbh. At first, I was questioning myself if I like Sanders or not, but now I love her too. Her fries joke was hilarious and evil at the same time. Not even Max, Mal or Scarlett did such an evil thing as Sanders. MacArthur was just hilarious from the start to finish. All of her lines are just comedy gold. She was kinda disappointing in the second week of the show because of those God damn fart jokes, but she redeemed herself. I'm rooting for this team the most. 9/10
Josee and Jacques - I'm lovin' their conflict with the goths. I like how they are trying to eliminate a team, but they always fail. This sound similar.. oh yeah, TEAM ROCKET! I swear, these two are team rocket in TD style. Many people hate Josee, but i'm one of the few people who likes her. I don't understand why people hate these negative characters like her, Stephanie and Taylor while they adored Heather. Yeah, Heather was better in the competition, but their personality, behaviour was pretty much the same. Heck, even Courtney fans hate these 3 characters. WTF! Josee and Jacques will do something a future episode, that will make everybody explode with anger tho. I'm not excited for that day.  8/10
Ennui, Crimson and Loki - Loki has got to be the best TD animal right next to the bear, Sasquatchanakwa and Clucky. Ennui can link with animals.. interesting. Now I ship him with Ella. Ella wouldn't care at all about how he looks. They were again, comedy gold, and now competition beasts. I'm probably the only person who adores how they are animated, and i'm love with their own music that is played for them, and only them. It's really impressive how they move, and I just adore their designs. It perfectly fits with their personality and voices. Julie and Christine were right about this team being amazing. Like I said in my previous blogs, my only with problem with them is that they didn't do a damn thing in the first 4 episodes. (besides Ennui's line in episode 3). I give this team a 9.5/10. 
Overall rankings:
8th. Daters
7th. Sisters
6th. Best Friends
5th. Ice Dancers
4th. Surfers
3rd. Reality TV Pros
2nd. Police Cadets
1st. Goths
Best Moment of the episode:
Emma and Noah finally kissing. It was really cute lol. 
Funniest moment of the episode:
Ennui linking with Loki. 
Best character of the episode: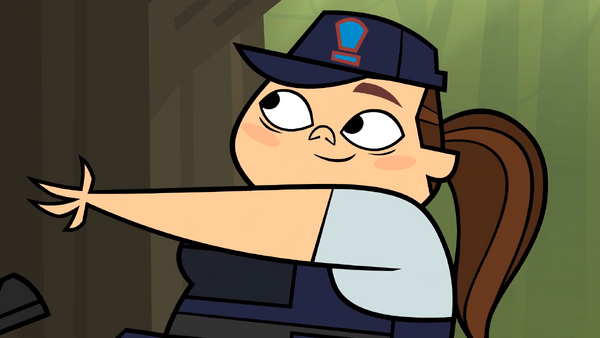 Valentina!
Thank you for reading!
Ad blocker interference detected!
Wikia is a free-to-use site that makes money from advertising. We have a modified experience for viewers using ad blockers

Wikia is not accessible if you've made further modifications. Remove the custom ad blocker rule(s) and the page will load as expected.