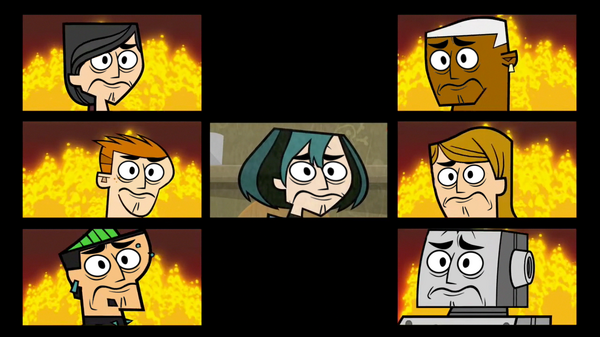 Welcome back DipDap's reviews. Friday's episode was written by a new writer, Meghan Read, and she did a pretty good job. Can we just talk about how the user who leaked episode 17 said he will upload more episodes in the next few hours? Yeah, he said 10 HOURS AGO! WHERE ARE THE EPISODES KJSHDKHSDKJHSD! Ugh! Now let's talk about the teams. 
Brody and Geoff - These 2 are the reason why I still exist on this planet. They are just so cute, funny, positive, dumb and lovable <3 All of their scenes are just adorable, and their friendship is wonderful. They are so in love with each other <3 And that scene at the end.. OMG Don x Brody x Geoff LOVE TRIANGLE <3 Don't get me wrong, I'm still a gidgette fan but Geody is the reason why i'm still breathing. Can't wait to see them kiss! 10/10
Owen and Noah - Like I said, Noah's face was golden last episode, and in this one, he was seen with that face the entire time! :D Owen was pretty funny too, but i'm not a fan of that fart scene that he had, but I expected it. Overall, they were okay. 7/10
Dwayne and Junior - At first, you know I wasn't a big fan of this team (mostly because of Dwayne) but now, I actually like them! I was sad to see them go, but it was their time to go. Both of them were cool, and them watching TDPI was one of the best scenes in this spin-off. I kinda wanted more Junior-Carrie interactions tho. 8/10
Emma and Kitty - It was great to see Emma finally admiring Kitty. Kitty was cute when she rode that bull, but Emma was too Courtney-ish at the end for me. Wasn't Stephanie the one that is like Courtney? That's what Julie said to us. Oh well, they were okay I guess. 7/10
Sanders and MacArthur - OMG MACARTHUR I GET THAT YOU DISLIKE THE ICE DANCERS BUT YOU WOULD KILL YOURSELF AND SANDERS JUST TO KILL THEM? Anyway, that scene was amazing. Is there anyone out there that dislikes the rivalry between them and the Ice Dancers? I doubt so. MacArthur had some funny lines and it was really good when Sanders tricked MacArthur just so she can eat some beans and MacArthur instead of slapping, kicking, or killing her, she was just impressed. That was good writing Meghan! 8/10
Josee and Jacques - now you definitely can't say that they are perfect. They were really slowed down because QueensArthur and Sanders, and they, just like Stephanie, also hate beans. Jacques riding the bull was cool because his scream was hilarious and OMG THAT BUTT <3 Did Emma see that? She would have definitely dumped Noah and go for Jacques's booty. Aside from that, they were mostly in the background. 7/10
Crimson and Ennui - Crimson riding the bull was definitely the funniest scene to me, and she had some funny lines. It's also nice to know that she was a cowgirl. (kinda?). Well, her grandmother was. More backstory with them would be cool. Ennui was silent, sadly. 7/10
Carrie and Devin - Again, they were mostly just boring as hell. I'm really disappointed in Carrie now. Devin is still annoying, and i'm still praying to God that my theory about them will become true. They will get better in the next episode, thank God. 5/10
Stephanie and Ryan - I'm one of the few people on the internet who finds them tolerable. No, I don't like them, but I don't hate them either. They have been getting a lot of screentime as of lately, and i'm glad they get some focus since they were silent at the beginning of the season. Stephanie had some good lines, like the line about beans. I don't get why she dislikes beans though. I like beans! Ryan is eh, I like Stephanie a lot more than him. I just wish their plotline will get finished already. It's kinda annoying now, and episode 17 didn't help. 8/10
Overall rankings:
9th. Carrie and Devin
8th. Owen and Noah
7th. Emma and Kitty
6th. Josee and Jacques
5th. Crimson and Ennui
4th. Stephanie and Ryan
3rd. Sanders and MacArthur
2nd. Dwayne and Junior
1st. Geoff and Brody
Funniest moment of the episode:
Crimson riding the bull like a boss!
Best moment of the episode: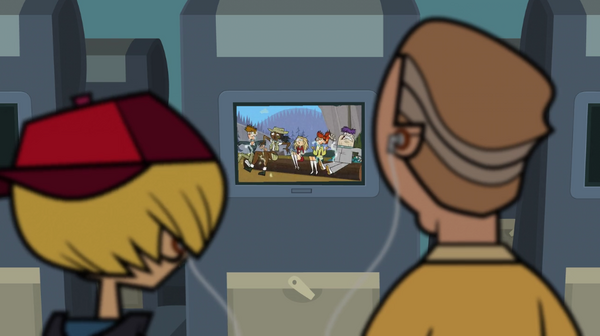 Dwayne and Junior watching TDPI!
Best character of the episode: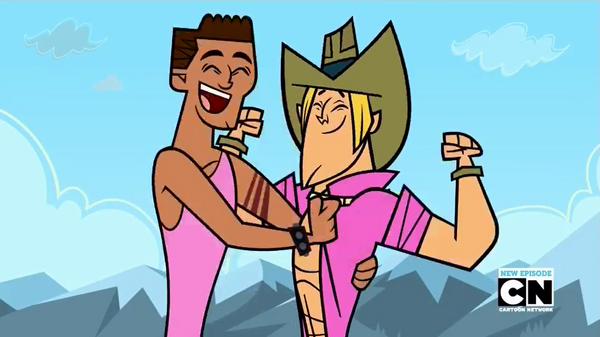 Tie between my 2 babies!
Thank you for reading!  
Ad blocker interference detected!
Wikia is a free-to-use site that makes money from advertising. We have a modified experience for viewers using ad blockers

Wikia is not accessible if you've made further modifications. Remove the custom ad blocker rule(s) and the page will load as expected.