Hey. I'm gonna start some episode reviews of all TDI/TDa episodes! Please leave comments of what you think!
Well, you sorta have to like this episode. It makes a great first-watch. You see foreshadowing for almost all the relationships/friendships/conflicts. There's not much too review, as you're just meeting the campers.
There is one bad thing; Watching this episode after you've seen it. I don't know how many times I can see all 22 campers first introduced. It's really boring. Espically Chris' rant at the beginning.
Overall, a cool episode. Great starter.
Plus -Good starter -Foreshadowing -Justin's introduction!
Minus -Watching it again!
Rating=3.5/5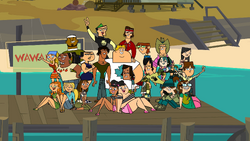 Ad blocker interference detected!
Wikia is a free-to-use site that makes money from advertising. We have a modified experience for viewers using ad blockers

Wikia is not accessible if you've made further modifications. Remove the custom ad blocker rule(s) and the page will load as expected.