Well, which original contestants would you like to see talk and interact with the Pahkitew contestants, and specifically which ones?
Since the All-Stars aren't coming back next season I'd like to potentially see these two interact, a mean girl and the nice nerd is always a fun pair to watch.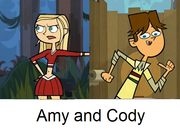 Maybe Leonard and Harold, Noah and Scarlett, they would be fun to watch.
Please comment below.
Ad blocker interference detected!
Wikia is a free-to-use site that makes money from advertising. We have a modified experience for viewers using ad blockers

Wikia is not accessible if you've made further modifications. Remove the custom ad blocker rule(s) and the page will load as expected.