Welcome back to another round of Total Drama Lover's Hatred. Last time, the contestants were ranked on who had the best play. The best was obviously Alejandro. But the guy who made the biggest splash was Tyler and he soon found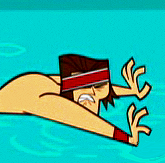 himself eliminated. With only six left, only one more will leave the game. This is Total Drama Lover's Hatred!
So we are down to six lovely contestants who have proven that they will do anything- even to backstab their lovers- to win. And to prevent the contestants from being nameless: here are the remaining six:
Remaining Contestants
Alejandro
Bridgette
Emma
Geoff
Jasmine
Noah
So, before we begin, I would like to tell you a funny story. I accidentally deleted my notes, so the question may or may not be the same from what I originally had. But, I did managed to write down who competed in this season with how many votes they got and other important details that revolved around the remaining contestants. So, with that being said, here is today's poll:
Which contestant are you most like?
The reason why I put those traits up there is just for humor- especially Geoff's. If I made you smile at the very least, I win. If I didn't, then I get points for trying. No harm whatsoever. Only benefits. But the traits won't be the same with today's fun poll:
Which of the eliminated contestants are you most like?
So the only thing left to do is to announce the date the polls will end: THURSDAY. And to say my farewells for now. Ciao.