Welcome back to another round of Total Drama Lover's Hatred! Before I announce who is getting eliminated, I just want to point out that this is the biggest amount of votes we have ever had! So thank you all who voted. Will the votes continue to rise at every elimination or is this the peak? Only time will tell. And yes, I am grinning like you wouldn't believe.
Now to th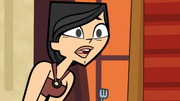 e serious crap. Last round was another automatic elimination. You get to choose which contestant gets sent home. I mean, it was close, very close, but at the end, Alejandro manages to surpass his girl for the third time. (I know I'm American and you all have opinions on who you think should've won the World Tour, but I tend to go with the Canadian version on this things. Gotta respect the country of origin, you know.)
But the winner of the fun poll (which was to see which contestant you would like to see back in the game) ended in a three-way tie between Ennui, MacArthur, and Zoey. For those of you that want to see somebody back into the game, go to the previous round where I explained to somebody (which will remain anomynous on this blog) about what I will do concerning bringing people back. Here's the link: http://totaldrama.wikia.com/wiki/User_blog:TDFanatic52/TDLH_Round_12
So we are at unlucky round 13 with 7 lucky contestants remaining. Soon, the unluckiest number will claim a would've been lucky contestant. Who's it going to be? Find out right now!
Remaining Contestants
Alejandro
Bridgette
Emma
Geoff
Jasmine
Noah
Tyler
If you remember back at round 2, there were 2 questions on plays. You guys love the fails and you went with it. Now, you are going to

see which contestant has made the biggest play.
Which contestant made the biggest play of all time?
Just for the record, this round is not an automatic elimination. It's just a normal round that needs 2 blogs for somebody to be eliminated.
But, man! Heather would've dominated in this poll. Or at least with Alejandro. But that doesn't mean she'll do well in the fun poll:
Which of the eliminated contestants made the biggest play of all time?
Before I end the blog and give you the date the voting will end, I want to think back to round 1, where it was lover against lover and romances were torn, split up, and sewn back together (either through elimination or competition.) And seven are still fighting to win this blog series type thing... I'll try to word that better next time.
The polls will end Sunday. See you all then, or sooner. PEACE.
Ad blocker interference detected!
Wikia is a free-to-use site that makes money from advertising. We have a modified experience for viewers using ad blockers

Wikia is not accessible if you've made further modifications. Remove the custom ad blocker rule(s) and the page will load as expected.