Welcome back to the eleventh (11th) round of Total Drama Lover's Hatred. We sadly have to split apart either Gidgette or JaShawn last time as Emma won invincibility and Alejandro's rejoined status kept him safe until elimination. T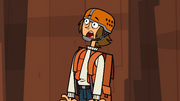 hough the blog revolves around the most skilled, which is areas where Bridgette and Shawn contribute the most out of. However, by one vote, Shawn was eliminated. Nine remain, who will be eliminated next?
First off, if you are an American, happy MLK day. If you are not American, happy Monday, I guess. Got nothing for you. Sorry.
Moving on, I was looking at how the teams are (6 Rabbits; 3 Horses) and I feel like this round would result in an automatic elimination if the Horses lose yet again. So, I plan on doing things a bit different. I moved the merge up. That's right. It's merge time. I orignially have it set to the final eight, but my nerveous side kicked in and I decided to move it up one round.
Mergers
Alejandro
Bridgette
Crimson
Emma
Geoff
Heather
Jasmine
Noah
Tyler

Because this is the merge, Alejandro and Noah have a chance to be eliminated.
Now, this poll is one of 2 automatic elimination polls. Which means the round's question and the elimination are shoved into one. Normally, you want the most votes in the round blogs. But since this is also an elimination, the person with the highest votes will be eliminated. Simple, I know.
Which contestant does not deserve to be a finalist of a TD season?
And here is the fun poll:
Which of the eliminated contestants does not deserve to be a finalist in a TD season?
Remember: the person with the highest amount of votes in this blog will be eliminated. The poll will end on Wednesday, so I will see you all then. Or sooner.