Welcome to the eighteenth elimination ceremony of the season. As it is the series' finale week, our very last challenge question wa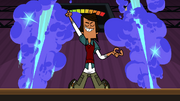 s for you guys to pick a finalist buddy if you made it to the finale of a TD season. And the person who won the last immunity round of the season was not Devin, not Emma, not Bridgette, but Noah. Noah has made it to the semi-finals, folks! As Noah has a 1-in-3 shot of winning, somebody will have a 1-in-3 shot of leaving the game. Let's get this party started right now!
As a reminder, Devin has 3 points against him as part of his penalty. So let's get voting.
Which of the following should be the next person eliminated?
I will read the results of the fun poll. In first place was Lindsay, second was Brody, and another tie for third with Carrie Shawn and Tyler. Shockingly, this was the first time that Zoey did not get a single point in the fun polls. But that was the last fun poll, so...
Polls end tomorrow. Make sure to vote out your least favorite quarter-finalist and I will see you all then. Or sooner.
Ad blocker interference detected!
Wikia is a free-to-use site that makes money from advertising. We have a modified experience for viewers using ad blockers

Wikia is not accessible if you've made further modifications. Remove the custom ad blocker rule(s) and the page will load as expected.