Mike
is clearly not a fan-favorite in the wiki. I get that, it's not that hard to figure out. However, there is one of his personalities that is clearly underrated as a master strategist. Given that you clicked on this blog, you should know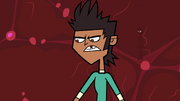 who it is. If you didn't, I am talking about Mal.
Mal's strategy in Total Drama All-Stars is similar to the strategy of Dr. Will Kirby of Big Brother 2 and BBAS. Since TD is based off of the show Survivor, Mal is actually a cartoon version of Rob Cesternino of Survivor: Amazon and Survivor: All-Stars who ironically played the game based off of Dr. Will's strategy in Big Brother. If you don't know about the strategy, it is that you do not need to win challenges to win as the game is more psychological than physical. Obviously, this is Total Drama, so you only need to win one challenge to win the game, and that's the final challenge.
How was Mal strategy that good? It's because those he didn't say what he was doing, if you look at Mal's actions, his mischievous behavior caused some psychological problems with the other All-Star Contestants.
I would also include Scott, but that was Zoey's choice and she wanted the Friendship-Finale and Gwen, but she did paint with bear leftovers, so those two have their own fault.
Though his strategy was great for a villian, I did not like Mal as a personality. If AS had a twist that one of the contestants had an evil twin and the two were switching places every other episode, then yes. Sadly, it was not the case. Am I looking forward to seeing somebody like Mal who makes use of a combination of grimlin and social skills to advance? Of course! That's a perfect character to have since they strategized and played dirty and in TD, you need to get dirt on your hands to leave a mark on the game.
Anyways, tell me your thoughts on Mal's strategy in AS. Was it perfect? Was it horrible? Was it risky? Leave them in the comments down below and I will see you all later. Peace.
Ad blocker interference detected!
Wikia is a free-to-use site that makes money from advertising. We have a modified experience for viewers using ad blockers

Wikia is not accessible if you've made further modifications. Remove the custom ad blocker rule(s) and the page will load as expected.