Now then a continuation of my "Who is Total Drama's Greatest Antagonist" blog, since people are having trouble finding my blog I thought I'd move it over here. Rules are the same.
Round 3 (Ended on June 27th)
Okay Round 2 has concluded, here are the scores:
1st place: Heather - (20 votes)
2nd place: Alejandro - (16 votes)
3rd place: Mal - (9 votes)
4th place: Scott - (5 votes)
5th place (tied): Courtney, Blaineley, Lightning - (4 votes)
6th place: Jo - (2 votes)

Commandeering Jockette Jo (who everyone pestered me to include) didn't make it through one round. Surprise! Here's the best I could find for her karma:
Well Jo, just be wary of who you make enemies with.
Okay then, with bossy Jockette gone these are the new contenders, and I thought starting from this round I'll order them based on how well they did last round, oh and I've provided where each image is from in the hidden tab:
If you have any requests for an antagonist moment, or wish me to change one, let me know in the comments, and I'll see what I can do.
Round 3 Tiebreaker (Ended on June 30th)
Round 3 now over, WOW seems like a lot of you have been changing who you voted for, and this time we have drastically different outcomes, Alejandro's dropped to 4th place and Courtney's shot up to 2nd. Here are the scores:
1st place: Heather - (29 votes)
2nd place: Courtney - (11 votes)
3rd place: Scott - (11 votes)
4th place: Alejandro - (10 votes)
5th place: Mal - (8 votes)
6th place (tied): Blaineley, Lightning - (7 votes)
Which means, tiebreaker time.
The contenders are Dirt Dishing Host Blaineley and once again Arrogant Uber-Jock Lightning.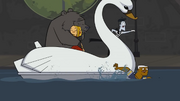 Thought it'd be fun to use this pic, as it has both of them in it, and it's quite funny.
Round 4 (Ended on July 4th)
Tiebreaker now ended, and in a the result is Lightning got slaughtered 20 - 14 votes. Which means the Thunder Man path has come to an end. Sorry Lightning but you are now SHA-Out!
Here's Lightning's karma:
If there's one thing Total Drama has taught us, it's that it does not pay to be a jerk.

So Mildred survives another round. Good on ya.
Now it seems as though last round everyone went and changed their votes. I like that. It keep things interesting. Rightio, contenders for Round 4:
For Round 5 onwards go here
Ad blocker interference detected!
Wikia is a free-to-use site that makes money from advertising. We have a modified experience for viewers using ad blockers

Wikia is not accessible if you've made further modifications. Remove the custom ad blocker rule(s) and the page will load as expected.