Hello everyone! How is everyone on this first of April? ;)
Just had the idea to make a blog about the couple I dislike the most from the TD franchise: Birdgette x Geoff! Yep, these two are the msot horrible couple from the show. Here are some reasons why I dislike them so much! :
They have been together since the first season....BORINGGGGG!
They have plenty of things in common. This relationship is so unrealistic!
 All the other couples are better than them. Yep, all of them.
There's plenty of other things that I dislike about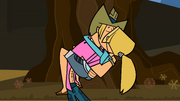 this pairing and thses two characters individually. I mean, WHO would ever find them likeable in some way?! Leave your thoughts below! ;)
Ad blocker interference detected!
Wikia is a free-to-use site that makes money from advertising. We have a modified experience for viewers using ad blockers

Wikia is not accessible if you've made further modifications. Remove the custom ad blocker rule(s) and the page will load as expected.