Hi. I've made  another blog. I see these kind of blogs more and more often on the wiki. For example, there was one about Lightening recently and people could decide if they think he is a good or a bad character and then explain their opinion. My blog isn't going to be exaclty the same as I will only focus on the good things about this character. You've read the title and you already know that character: Zoey.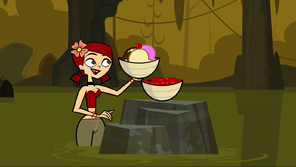 Ah, Zoey. A character that is hated for reasons that I personally don't understand. Zoey made her first apparence in Revenge of the Island and was introduced as the " Indie chick". From what I have seen, people liked her in TDRI but started disliking her in All-Stars. In my opinion, I kind of enjoyed TDAS but that's not the point here.
Here's a small list about why I like Zoey. This is only what I think:
She's nice to others. Even the people who don't like her have to admit that Zoey has always has been nothing but kind to almost everyone.
She's skilled. I don't get why people say Zoey " godplayed" in All Stars. She has always did well in physical challenges. She finished in the 3rd place in TDRI.
She's honest. Zoey isn't like Alejandro or Heather. She doesn't manipulate people and she plays a fair game.
She's a good leader.
She's a good protagonist.
To resume, these are the main reasons that I like Zoey. I'm sure there are more but basically: she's a good protagonist and I think she deserved her win.
Ad blocker interference detected!
Wikia is a free-to-use site that makes money from advertising. We have a modified experience for viewers using ad blockers

Wikia is not accessible if you've made further modifications. Remove the custom ad blocker rule(s) and the page will load as expected.