Hey to all!
It's my first blog of 2015 and I decided to talk about Dave. When I first watched TDPI, he became my favorite character right away. Those who watched the entire season know what happened between Sky and him. Dave got derailed like many characters on the show and became unpopular among the fans. My question is... What do you think of Dave? Do you think the character has still potential?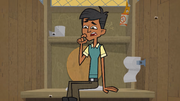 Ad blocker interference detected!
Wikia is a free-to-use site that makes money from advertising. We have a modified experience for viewers using ad blockers

Wikia is not accessible if you've made further modifications. Remove the custom ad blocker rule(s) and the page will load as expected.