Hi! So you guys may have already saw this but! TOTAL DRAMA T-SHIRTS :D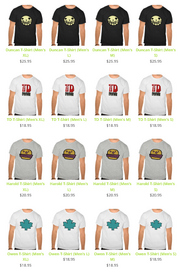 As you can see on this picture there is a Duncan skull t-shirt, a t-shirt with Total Drama written on it, an Harold burger t-shirt and an Owen blue leaf t-shirt! Awesome Right!
So what do you think about the total drama merch? Do you like those t-shirts?
Ad blocker interference detected!
Wikia is a free-to-use site that makes money from advertising. We have a modified experience for viewers using ad blockers

Wikia is not accessible if you've made further modifications. Remove the custom ad blocker rule(s) and the page will load as expected.