Hey there guys, your favourite Sierra lover here once again for another blog. Now I looked back at TDRR episode 1 (
None Down, Eighteen to Go - Part 1
) and when the LARPers arrive at the train station,
Tammy
is drinking a soda with a circle on it that looks a lot like the Pepsi logo. I think it's pretty fun that Fresh is putting some references like that in the episodes. What do you think? Do you thing I'm right or I'm wrong? Say that in the comments below!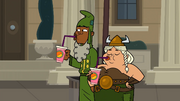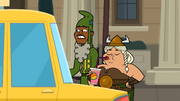 Ad blocker interference detected!
Wikia is a free-to-use site that makes money from advertising. We have a modified experience for viewers using ad blockers

Wikia is not accessible if you've made further modifications. Remove the custom ad blocker rule(s) and the page will load as expected.