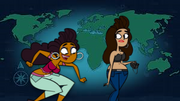 Hey there guys, your favourite Sierra lover here! As we all saw, Anne Maria cameod in the finale episode of RR. As you can see, there were lots of pairs of random characters that we don't know who were walking on the step walk, maybe these will be teams in RR2! So now, I was thinking : So that means, Anne Maria for RR2! Maybe I'm wrong, but if she is who will she be teamed up with maybe a new girl that has a similar personality then her. Anyways, do you tink Anne Maria will appear in the second season of The Ridonculous Race or not? Say that in the comments below! File:Image2436.jpeg
Ad blocker interference detected!
Wikia is a free-to-use site that makes money from advertising. We have a modified experience for viewers using ad blockers

Wikia is not accessible if you've made further modifications. Remove the custom ad blocker rule(s) and the page will load as expected.