First off this blog has some spoilers so if you don't want to be spoiled don't read this blog!
So today I was bored so typed The ridonculous race and I saw this :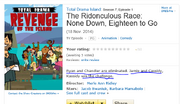 Wow! Five new characters Junior, Jamie, Cassidy, Ryan and Chandler! Junior is voiced by a new cast member Jacob Ewaniuk a 14 years old Canadian child-actor if you want to know more about him click on this link : http://en.wikipedia.org/wiki/Jacob_Ewaniuk . So the next character is Jamie and she is voiced by Barbara Mamabolo, the voice of Zoey. There is 3 other characters revealed but their voice actors are unknown Ryan, Chandler and Cassidy.
Carrie (voiced by the voice actress of Bridgette) is the only character confirmed so I can't say if it's real or not.
The episode one will be directed by Merle Anne Ridley and it will be named None Down, Eighteen To Go. Yeah, so that confirm that there will be 18 contestants (teams). Its also said that Ryan and Chandler are eliminated first and Jamie and Cassidy win the challenge.

So what do you think? Send your toughts below! Real or Fake?
Ad blocker interference detected!
Wikia is a free-to-use site that makes money from advertising. We have a modified experience for viewers using ad blockers

Wikia is not accessible if you've made further modifications. Remove the custom ad blocker rule(s) and the page will load as expected.