Hey guys and welcome to round 3 of TPTDS6! Last time, it was a battle between past twists, but in merely a  one vote difference, the winner was...
Returning contestants.
This means that the current list of winning situations is:
Theme: The Abandoned Film Lot.
Main Twist: returning contestants.
Also, the winner of the bonus round and our first cast-member by a few votes was... Anne Maria. 
Cast:
- Anne Maria.
Okay, so lets get to the third round! This is going to be one of the most important rounds of the game (next to one that I cannot spoil at this point.) The question is... How do you want the cast to be formed? 
'
... All-newbies but with two veterans? (Based on Survivor: Guatemala, South Pacific and Redemption Island.)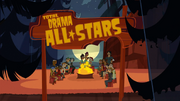 ... All-veterans? (Based on Survivor: All-Stars, Heroes VS Villains and Second Chance.) 
'
... Or one team formed of all-newbies and one team formed of all-veterans? (Based on Survivor: Micronesia and Caramoan.)
BONUS ROUND: They're animal-loving, sweet, and they share one thing special in common amongst the fans: they were voted off earlier than a lot of people wished... Which one would you rather see return?
Dawn...
Or...
Ella...
Also, there's a new rule. When a character loses a bonus-round, they're NOT out of the cast for good. There's a chance that I might have a 'redemption' bonus-round between two losers who I feel like were robbed of the title of cast-member the most. 
PS: If the first situation happens to be picked, then Anne Maria and the winner of this bonus-round will be the two veterans who would play amongst the newbies. Also, if any of the situations which involves newbies is picked, bonus rounds will involve stereotypes for newbies which you guys will vote on (most likely as well as veterans, depending on which situation is picked.) 
See ya guys! 
Ad blocker interference detected!
Wikia is a free-to-use site that makes money from advertising. We have a modified experience for viewers using ad blockers

Wikia is not accessible if you've made further modifications. Remove the custom ad blocker rule(s) and the page will load as expected.