Hey guys, and welcome to round two of TPTDS6! 
Last round, it was a battle between three locations which could possibly be used in the next season of Total Drama. It was a close vote between The Abandoned Film Lot and Boney Island (with Pahkitew Island out of it) but ultimately The Abandoned Film Lot emerged victorious.
Plus, to make things easier, templates won't be used to vote anymore. Instead, just say, 'I vote ____'. 
Also, in a new rule added to the game, every round there will be an extra 'bonus' vote between two past contestants. The contestant who receives the most votes will be added to the cast list, whilst the other contestant will be out. This will be so that we can determine the cast before the final round which will involve all of the cast members which you guys voted in!
Anyway, this round, it's a battle between three past twists. Which of these three twists do you most want to see return in Total Drama season 6?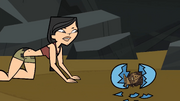 ... The Hidden Immunity Idol ,,,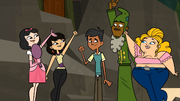 ... Teamswaps ...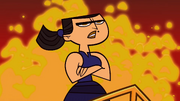 ... Or returning contestants ?
BONUS ROUND: Would you prefer to see Leshawna or Anne Maria return to Total Drama season 6? 
See you guys next time!