I saw other people doing it, so I might as well! :P Myopinions and rankings all smushed in one. I call it: Opinigs or Rankions. Whatever. Now onto the Opinions and Rankings. Ugh That's way too long.
52. Ezekiel
File:Evil Zeke.png
Previous Ranks:
TDI- 22nd
TDWT- 18th
Ezekiel is a ruined character. He started out as a nose-picking, home-schooled guy. I'm kinda glad he didn't compete in TDA. In TDWT, I liked how he had determination, but when he got feral, that's when he just got old. The whole, attacking the other campers thing got too old. I hated when he got feral. That just ruined him completely. Do you think  he should be in TDP:TRR? I think he will make is feral cameo thing. I just hope he doesnt compete. Julie Giles, if you read this, DO NOT LET EZEKIEL IN TDP:TRR!!! That is all.
51. Katie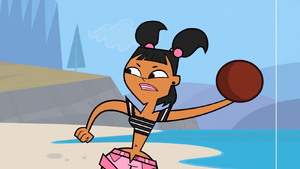 Previous Ranks:
TDI- 19th
Katie wasn't ruined. She was extremely annoying and has no brain. All she does is gush over Trent, agree with Sadie, and just do nothing. Katie had no purpose in the game, except to squeel and have fights with Sadie. Her whole thing just revolves around Sadie. The only thing I did like, is her kickbutt attittude in dodgeball, even though she didn't talk.. I would like to see her in the Ridonculous Race, but without Sadie.
Hint for #50- Was SUPER annoying in all seasons she's been in.
Ad blocker interference detected!
Wikia is a free-to-use site that makes money from advertising. We have a modified experience for viewers using ad blockers

Wikia is not accessible if you've made further modifications. Remove the custom ad blocker rule(s) and the page will load as expected.