You would want to make a team of three people that you know would help you get to the finale and eventually win the money prize at the end. They are people from RR.
Mine would be MacArthur For the toughness and the way to get past any challenge with strength.
Loki/Ennui just because he would get through all the hard challenges with the rabbit alone.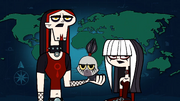 Josee for how she would get me through all the challenges by cheating since she would be so determine do getting 1st.
This would be my team. What's yours and why?
Ad blocker interference detected!
Wikia is a free-to-use site that makes money from advertising. We have a modified experience for viewers using ad blockers

Wikia is not accessible if you've made further modifications. Remove the custom ad blocker rule(s) and the page will load as expected.