Welcome to The 7 Habits of Highly Effective Queens, a blog about the Queen of Total Drama, the beautiful and mighty Queen Sadie herself. Sadie is highly regarded as one of the finest quality characters that the show has ever gifted us with. But what makes Sadie so great? Read on and find out the 7 qualities of Sadie that make her amazing, majestic, and the peak of magnificence, written by yours truly, with a ton of help from one of my best friends, Cody. Some praise you may hear about Sadie is:
SADIE MOMMA THE QUEEN
– Aqua
the self-drag of not being a sadie stan...
– Amber
You don't know why you love her, but you just do.
– Cody
#1 Savagery
Edit
Yes. The first step on the road to becoming a true queen is to master the art of savagery. One can define savagery as "hardcore and oftentimes impressive behavior that may lead to unknown consequences." A truly savage person wouldn't care about the result of their savagery, and Sadie is a prime example of savagery. But why would a Queen need savagery? It is how they truly establish their dominance over the peasants that surround them.
Sadie displays her first strokes of savagery in Not So Happy Campers - Part 2 – only a sample size of her true savagery! Take a look at her downright DEMONIC expression in this picture, as she glares at FOUL, SEXIST, DISGUSTING Ezekiel for being an OPPRESSIVE FIEND towards the women of his team. AS IF Sadie would let something like that fly on HER team. Never, in all my life, have I seen such a queenly glare.
After this mere sample size of Sadie's true savagery, we receive a full version of it in The Sucky Outdoors. "Trip to the beach last summer ring a bell?" "You're not exactly the best with like, directions." Sadie fires on ALL shots when fighting with Katie; she has the tea on her, and she's not afraid to scald both her and the ENTIRE VIEWING AUDIENCE OF THE WORLD with the absolute HEAT of the tea.
And then...her legendary moment. The very PEAK of Sadie's savagery appears. In Who Can You Trust?...yes, you all know where I'm going with this. Not only does Sadie knock out Courtney with crapapples earlier like a vicious MONSTER QUEEN, she continues her beautiful reign of terror by SCREAMING at everything the most SAVAGE DRAG THAT HAS EVER BEEN UTTERED BY MANKIND: "That's just fine you, you, MARSHMALLOW EATING FREAKS!". Sadie successfully DRAGGED her team, SNATCHING them BY THE WEAVE ITSELF and beginning the #KillerBassIsOverParty. Well done, Sadie.
Queen.
#2 Warrior of Oppression
Edit
The next step is to stand up for the rights and well-being of a group of people you care deeply about. Perhaps one that you're part of yourself. For Sadie, this group is the group of big, beautiful women. Sadie is an ICON for fat women everywhere and gives them the courage, nay, the very RIGHT to be as amazing as she is. She gives them her confidence, her faith, her permission to be as amazing as she is. You cannot be a true Sadie fan without, not just accepting her fatness, but ADORING her for it.
Sadie doesn't care about people who judge her for being fat – she takes PRIDE in it. She shows off her curves! Just look at her revealing outfit! She knows men like big butts and they cannot lie. Take, for example, her performance in Not Quite Famous. While most would dismiss a fat dancer as someone whose body is not appropriate for such a task, Sadie evades ALL stereotypes, and goes for it anyway. And the result is...beautiful.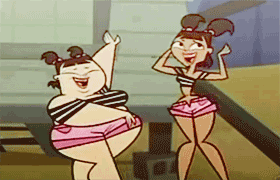 Okay, so Katie is a huge mess. Ignore her and her skinny-ness. What has she ever stood up for? Focus on the BIG, BEAUTIFUL, GODDESS, QUEENLY SADIE in all her magnificence. Sadie ENDS EVERYONE with her beautiful curves, outdoing EVERYONE in EVERY aspect of life. Verily, the next step to Queenlihood is fighting for something as Sadie has done.
Queen.
#3 Face of Feminism
Edit
Step 3 to becoming as queenly as Sadie is knowing how to be a champion of feminism. Sadie is, in fact, the very queen of feminism itself. Many great feminists have taken the Women's Rights Movement forward – Susan B. Anthony, Elizabeth Cady Stanton, Alice Paul, but none as great as Sadie. Not only does Sadie champion for fat rights, but she also champions feminism and women's empowerment. She's the reason women's suffrage is a thing.
But personally, I think Sadie's biggest contribution to women's social status is her normalization of being "big". As I discussed earlier, Sadie has made it a beautiful thing to be obese. How, you may be wondering. Sadie is such a beloved queen that all aspire to be like her. How does one imitate a goddess like her without copying her magnificent figure? They don't. Women around the world who have been fatshamed are now considered beautiful and sexy, thanks to Sadie.
Sadie also recognizes that women are the superior gender, therefore employs great measures to make sure that the women are powerful. That's why the females in Total Drama are better than the males. Of course, Chris is actually a sexist meninist (which is why he never calls Ezekiel out on his sexist comments!), so he makes sure Sadie is eliminated before her plans to have an all-female merge come to fruition. But Sadie has vowed to, one day, have her revenge.
Queen.
---