Hey everyone! Today is the birthday of our favorite geek, Cody Emmett Jameson Anderson! This year, Cody (probably) turns 19, 20 or 21 years old! How time flies!
Remember when we all knew him when? During his humble handful of episodes in Total Drama Island, and he worked his way into our hearts with his small adorable cuteness and mindset that he was cool? Remember when we all laughed as he flirted with Gwen, and kept her bra forever?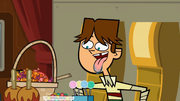 And of course, who could forget Cody's brilliant performance and show of tolerance in Total Drama World Tour with his psycho fan Sierra, who loves Cody maybe a little more than we do? Ah, Gwen, you totally missed out on a great opportunity. I do wonder what Cody's up to these days. He's a smart kid, probably in some fancy university getting a degree in something awesome, of course, with Gwen's bra. So here's to Cody! A geek that has a killer left hook (and made Duncan claim that he took a fall to make him feel better. Did anyone even buy that?) We love you Cody, and even more during those rare times on Total Drama World Tour when you sang and showed us your shockingly awesome voice. Keep on befriending condors and keeping things real! And never, ever stop flirting with the ladies. Even if you stop, we all know why. And that reason is...
...that you gave us what is probably the best gay moment in all of Total Drama history, that too in Episode 3.
We all love Cody.
Ad blocker interference detected!
Wikia is a free-to-use site that makes money from advertising. We have a modified experience for viewers using ad blockers

Wikia is not accessible if you've made further modifications. Remove the custom ad blocker rule(s) and the page will load as expected.