Hi guys, sorry about the weird blog before and I hope I didn't offend any of you with those odd to possibly rude questions on it. Anyway, today's blog is going to be like the first two, normal and suitable for even little kids :) . Answer in comments, preferably with reasons for your answers :D . So, lets start.
1. Is Gwen's real name even Gwen (consider the events in Camp Castaways) ?
2. Do you think these Total Drama contestants would have similar dimensions to what I'm guessing below:
Gwen: 160cm and 48kg, Bridgette: 162cm and 52kg, Cody: 155cm and 41kg, Leshawna: 157cm and 64kg, Duncan: 172cm and 62kg, Sierra: 183cm and 74kg, Heather: 170cm and 55kg, Beth: 140cm and 43kg, Owen: 171cm and 115kg, Courtney/Zoey: 165cm and respectively 55 and 53kg, Jo and Brick: 175cm and respectively 65 and 68kg. Any other characters whose dimensions you want me to guess, add that to your reply in the comment.
3. Out of every contestant in Total Drama, who do you think would have the cheapest clothes?
4. Do you think Izzy eats weird food (eg: pizza flavoured seaweed and whole jars of pickled onions or pickles with the juice) or is she just naturally crazy and that her personality has nothing to do with her diet? Or do you think its a coincidence that she may eat weird food and has and odd personality? 
5. Do you guys like TD conspiracy theories? 
6. Why do you guys mostly hate the stepbrothers? :( 
7. Should I keep making more 'opionions on things' blogs?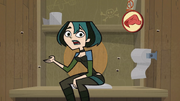 Ad blocker interference detected!
Wikia is a free-to-use site that makes money from advertising. We have a modified experience for viewers using ad blockers

Wikia is not accessible if you've made further modifications. Remove the custom ad blocker rule(s) and the page will load as expected.