Hi guys, it's Princess here and I'm gonna try something kinda new, a fun and games page. Some games you may have seen before or seen similar versions of and other games may be completely new. Anyway, give your answers and opinions in comments and tell me which games you like and don't like. I will update this blog daily.
WAR OF THE BASE BREAKERS Ok, so this is like Hurt and Heal, but with way less characters and a different point system. The points are actually PEEVE points, so the first to 10 loses and it keeps going until you get the winner of least disliked/most liked base breakers. Our base breakers are Gwen (3), Shawn (1) and Sugar (8)

THE FUNNY QUESTION! Just give your answer to this question: Where does the world's crazy come from? Whoever gets the closest to the right answer wins a star on their message wall (if they are the first to get it). However, this is a funny question, so the answer may not necessarily be factual.
FAKERS Post pictures in the comments to tell me why you think a certain character is 'fake', whether it's by how they play the game, their vanity, what they try to hide and/or anything else relating to this. The fakest character will be the 'winner' of this game (character with the most pictures of them being phony OR first to 10 points. Our fakers are Heather (3) , Anne Maria and Blaineley (8).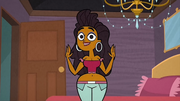 Ad blocker interference detected!
Wikia is a free-to-use site that makes money from advertising. We have a modified experience for viewers using ad blockers

Wikia is not accessible if you've made further modifications. Remove the custom ad blocker rule(s) and the page will load as expected.