This article/section features

spoilers

. Continue reading at your own risk.
This week, TD C.I.T (Courtney in Tights) takes the Flush of Shame due to a combination of her TDA self and Mal's scheme. Meh, i like her back in TDI-TDA time. Oh well, Courtney i'm sorry to said that YOU'RE FIRRRRRREDDDD!!!!!!!!!!!!!!!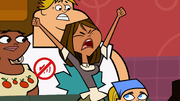 Well its the final four. We have original contestant Gwen vs Newbies, Zoey, Mike and Scott. Two girls vs two boys. Both girls have a good performance overall this season (other than one of them being a lesbian and ex-bf hater and another is dumb and boring) and 65% of their story focuses on their love life. Both boys are antagonist and have a record of sabotages.
TDI's fan favourite who attract many fans including obsessed fans (2 in-universe and 2-3 in this wiki). Gwen has broke up with her bf (not cool) and because she realise that she is not straight and move on to Courtney instead. While my fav character suffer some derailment this season, she is still better in other eps such as the 100th ep. Additonally, she finally has her performance improve since TDI and made it to the final four again. Will she reach the first person to reach the final two?
Fun Facts this season: She further her record of number of challenges won overall, won her first immunity since I 3x Dog Dare You!. And she miss her menstrual period in the 100th ep.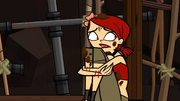 Little Red Boring Hood. Known her Mary Sue personality and being a cry baby (or should i said Mike Baby) in TDR but suprisingly she did good this season, winning challenges and not as annoying as before. But will her new found confidence and independence help her to reach the final two? She has my vote.
Fun Facts- Less MIKE! MIKE! HELP ME!! and...............pretty much that is. oh and her boobs are annoying.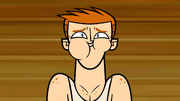 Last season, every one hated him so much but suprisingly everyone loves him this season. Looks like Courtney did something to improve his ratings. His feud with Fang continues but other than that, he pretty much sucks this season. Will he reach the final two without doing any sabotage? HELL NO! He does not have my vote.
Fun Facts- Being in relationship with a lioness, still afraid of sharks. Dirt digger. Pit sniffer. Oh and he has a baby.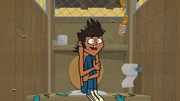 Like his gf, Multi Mike is totally boring last season unless he is someone else. But due to new antagonistic character named Mal, ho ho ho he is a total badass. Unlike other antagonists, it seems that he just love chaos and have no interest to win the million dollars. What will he do next to reach the final two? Will he manipulate them? Sabotage challenges? Meanwhile, can Mike find a way to stop him? As Mal he got my vote. As Mike, he can receive my foot in his arse.
Fun Facts- A total change in character makes him better. Apparently being a much more powerful antagonist than Alejandro.
Conclusion
Edit
Its now down to Weird Goth Girl vs Boring Girl vs Shark Bait vs Crounching Mike, Hidden Mal. Who will reach the final two? Will Gwen and Scott find love again (not with each other i mean)? Will Zoey shows her skills? Will Mike defeats his evil self? And who is the next person to go down the toilet?
Will there be a double elimination in the next ep?
Who will be in the final two?
Which Scott McCord Character will appear?
Which Peter Oldring character will appear in person?
Who will win invincibilty?