This article/section features

spoilers

. Continue reading at your own risk.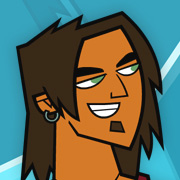 <
Condor
playing in the background>.Finally he is out. This week, the Justin 2.0, the womanizer and the devil in disguise is finally taken down, possibly reuniting with Heather in nowhere land. Well at least he still got his "gorgeous" but slimy eel face. So long Al. and dont forget your robot suit.
On a plus side, the website is finally wrong, though this is because of Al being a "wildcard". Most probably next ep the trend will continue again.
Scourtney hook up again. That was fast (though not as fast as Bridgette and Geoff). But will they last this time? Will Zoey and Gwen find out the truth about Mal? Will Gwen and Courtney kiss? Will Mike and Duncan finally escape their respective prison? And who is the next person to leave the island dirty?
Who will win immunity next?
Will there be a double elimination in the next ep?
Who will get flushed next ep?
Will Noah get his PHD? (For Fun Joy and Laughter)
Will Lightning return for another sha-season? (For Fun Joy and Laughter)
Ad blocker interference detected!
Wikia is a free-to-use site that makes money from advertising. We have a modified experience for viewers using ad blockers

Wikia is not accessible if you've made further modifications. Remove the custom ad blocker rule(s) and the page will load as expected.