So this week, TD's loner, goth and winner of the Dude Olympics and my favourite character has been eliminated. Meh dont really care. This season while she did good, her character is terrible. So bye bye Gwen.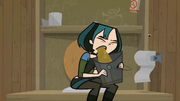 At the same time, Shark bait follows her but WHO CARES OF HIM. Fang better get him. Smell ya later Scott.
So the worst thing had happen. The website gets all its elimination correct. Its Trouble Couple 2 aka Mike vs Zoey. As if the first Trouble Couple is not bad enough, we need another couple in the finale.
Terrible season with spoilers, terrible character development (other than Zoey to a little extent), characters suffers derailment, the character's elimination are terrible, hell this season is terrible. This is why Owen and Noah must be around.
So who will win the season. Will it be Crounching Mike Hidden Mal or Little Red Boring Hood? File:Zoey kiss Mike 2.jpg
Will Canada have a different ending?
Will Duncan and Gwen get back together?
Will Scott and Courtney get back together?
Will non-competing contestants appear next ep (Tyler, Dawn, Bridgette etc though they might have no dialogues)?
Which ending you rather have?
Are Zoey's boobs annyoing (for fun joy and laughter)?
Ad blocker interference detected!
Wikia is a free-to-use site that makes money from advertising. We have a modified experience for viewers using ad blockers

Wikia is not accessible if you've made further modifications. Remove the custom ad blocker rule(s) and the page will load as expected.