Hi guys,
Sam here, today I want to show you some very good news, a few weeks back there was a panel at Comic Con, in Toronto, and a user (on Youtube), by the name of "
ysuron123
", uploaded a video when he went there, and in the video there is footage of the panel, but not much of it, but he told what they said there, and this is what he said...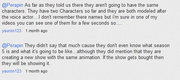 He mentions that they didn't really mention anything about Season 5, but he said that they are working on a new show, in the SAME style as Total Drama, but the two characters are based of the voice actors voicing them.
This might relate to this video Christian Potenza uploaded a while back, mainly because he says that he says "we're working on a cartoon that you'll probably never see", and he shows the two voice actors in the booths besides him, as the guy mentioned in the comments there will be two main characters.
So, what do you think about this theory? Also, there is another Comic Con on today in Toronto, hopefully someone will be uploading it *crosses fingers*.
And if you think this is fake, here is the link to the video: http://www.youtube.com/watch?feature=player_detailpage&v=y52mtT_1Nxg#t=53s
Leave your thoughts down below...
Ad blocker interference detected!
Wikia is a free-to-use site that makes money from advertising. We have a modified experience for viewers using ad blockers

Wikia is not accessible if you've made further modifications. Remove the custom ad blocker rule(s) and the page will load as expected.