HI. BILLY MAYS HERE WITH A BRAND NEW SET OF WIKI PRINCESS DOLLS.
Princess Jam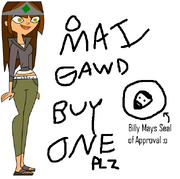 There's a string on her back and when you tie it in a 720 degree butterfly pirate double helix knot, she'll say ONE OF SEVEN ADORABLE PHRASES:
"Hey, guy!"
"NALEJANDRO"
"That kangaroo is rampaging through the city, somebody make him stop."
"You're my favorite deputy!"
"That kangaroo has a hostage."
"My husband-fiance-guy speaks Spanish."
"Laugh like somebody told a funny joke. Wait, was I supposed to do that or say that?"
Princess Jam costs $7, but if you order now you can have your very own Princess Jam doll for your first born son. But wait, there's more! Order now and we'll throw in an autograph picture of Princess Jam editing the wiki! Disclaimer: The picture is a screenshot from Nalyd's computer and the autograph was done on Paint. Order now!
---
If you'd like to be turned into a Princess Doll, just ask!
Ad blocker interference detected!
Wikia is a free-to-use site that makes money from advertising. We have a modified experience for viewers using ad blockers

Wikia is not accessible if you've made further modifications. Remove the custom ad blocker rule(s) and the page will load as expected.