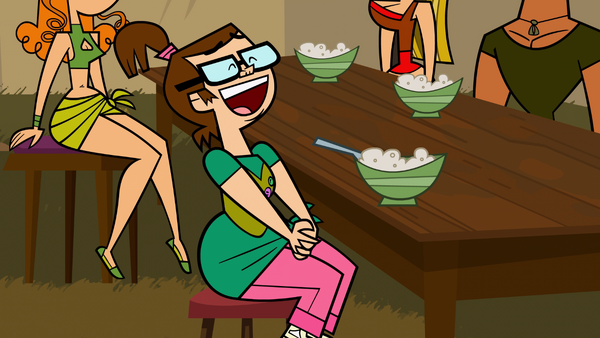 Hi guys, and welcome to the first Character Appreciation Week Quiz blog. Within this series I (MrQuest17) will be publish one for each week, starting from now,  based on the character of the corresponding week  in correspondance with Project 10. For each character I will do an amount of sections based on how many seasons they've been in, with 5 questions each. The first user to get all the answers correct will get a special spotlight in next week's Quiz blog. this week's blog is gonna be about Beth; The wannabe.
TDI
Q1. who is Beth's voice actress in Total Drama?.
Q2.Who's makeup kit did she help to throw in the kitchen's freezer room?.
Q3.Who did she spit at by accident, when greeting them?.
Q4. Which flavour of crisp did Beth end up picking for Heather?.
Q5. What item did Beth take from Boney Island?.
TDA
Q1. Finish this quote: "Budha says...."
Q2. What was her Super-hero persona?
Q4. Which animal did Beth bond with in Top Dog.?
Q5.Who did she have an attraction to towards the end of TDA (not Brady)?.
Well that's it for the first Character Appreciation Week Quiz blog, catch us again next week, when we'll focus on Blaineley, please your answers down below, remember first one to answer all the questions correctly will win the spotlight next week, but for now Quest on and always see ya later.
Ad blocker interference detected!
Wikia is a free-to-use site that makes money from advertising. We have a modified experience for viewers using ad blockers

Wikia is not accessible if you've made further modifications. Remove the custom ad blocker rule(s) and the page will load as expected.