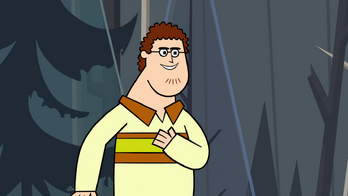 Yo Questers, Quest back again this week with another Scoresome edition of the Character Appreciation Quiz, this time based around TDROTI's Guy-Gamer; Sam. As always there'll be sections based upon season with two on ROTI and AS, as well as a general section.
TDROTI
Q3- What famous Nintendo-game did Sam reference during the final segment of the challenge in Runaway Model?.
Q4-In the same episode, how did Sam try to demonstrate his cat-like reflexes to his Toxic-Rat team-mates?.
TDAS
Q1- In Heroes vs. Villains, what did Sam state was the reason for him returning to Camp Wawanakwa?.
Q3- Which former contestant, did Sam say could carry him around like a game-guide in the same episode?.
Q4- What food did Sam try to store for later in-case of returning to Bony Island in Food Fright?.
Q5-What did Sam discover in the sand-pits after being knocked into them during the challenge in Evil Dread?.
General
Q1-Sam's voice actor; Brian Froud voices two characters in TD, name the other character in which he voices?.
Q2- In All-Stars, which original cast contestant was originally meant to be in his place?.
Q3- Give one feature of Sam's original design that was scrapped for the full season?.
Q4-Which game's console is Sam using a parody of during his audition tape?.
Q5-What weird Video-game related accolade does Sam have?.
User Spotlight
I can officially reveal that the winner of last week's Sadie quiz was:
                             *Cody
                            File:SLWB User-Spotlight_Imagery.png

Congrats Cody dude, anyways Questers that's it for another edition of the Character Appreciation Quiz, don't forget to catch Art next week as he gives his views on the Nice-Twin; Samey, as always Quest on and see ya later.
P.S-Sorry for not posting the first day of TD:The Elimination Game today, I've been pretty busy as of late with College, but don't I promise to upload it tomorrow.
Ad blocker interference detected!
Wikia is a free-to-use site that makes money from advertising. We have a modified experience for viewers using ad blockers

Wikia is not accessible if you've made further modifications. Remove the custom ad blocker rule(s) and the page will load as expected.