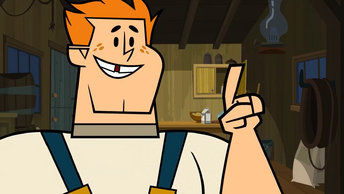 Yo Questers, Quest back again today with this week's instalment of the Character Appreciation quiz, this time based around the love-sick farm-boy; Rodney. As usual there'll be sections based upon season, with two sections based on TDPI & General.
TDPI
Q1- How many girls did he fall for throughout the season and which girls were they?.
Q2- During the challenge in I Love You, I Love You Knots, which female contestant did Rodney try to pawn off as the most attractive contestant?.
Q3- Upon his elimination, what does Rodney hit upon landing?
General
Q1- On the subject of TDPI character participation in RR, what where the words of Rodney's voice actor; Ian Ronningen?.
Q2- As revealed in his audition tape, what inanimate object may Rodney have fallen in love with?.
Q3- Having ginger hair and having come from a farm, which TDROTI contestant does he share similarities with?.
Q4- During a confessional, which family members did he reveal himself to live with?
Q5- In a popular piece of pre-release fan-art, what colour was Rodney's hair?.
User Spotlight
I can officially reveal that the winner of last week's Owen quiz was;
                  *CHEWBACCA 109

Congrats Chew dude, anyways that's it for another edition of the Character Appreciation Quiz, don't forget to leave your answer's down below and catch RBW next week as he gives his views on Sadie, as always Quest on and see ya later.
Ad blocker interference detected!
Wikia is a free-to-use site that makes money from advertising. We have a modified experience for viewers using ad blockers

Wikia is not accessible if you've made further modifications. Remove the custom ad blocker rule(s) and the page will load as expected.