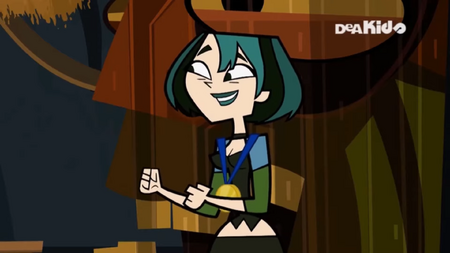 Yo Questers, MrQuest back again today with this week's installment of the Character Appreciation Quiz. This time we'll be focusing on goth girl; Gwen, with four different sections based on the four seasons she competed in.
TDI
Q1- Who's ant-farm did she borrow to irritate Heather?
Q2- In Up the Creek, what did she describe Cody as being like?
Q4- Name the five characters that Gwen thought were tolerable?
TDA
Q3- What did the opposing teams use to blackmail her in the same episode?
Q4- Who convinced Gwen to pick Heather for her team and what was the reason?
Q5- What trait did Gwen compliment her at-the-time boyfriend on in Monster Cash?
TDWT
Q4-Who decided to build her face for the challenge in Sweden Sour?.
Q5- Where was it revealed that she had kissed Duncan?.
TDAS
Q4- What were the conditions she set out for Courtney, for voting for Scott in Sundae Muddy Sundae?.
Q5- Who did she try and convince that her team wasn't completely evil?
User Spotlight
I can officially announce that the winner of last week's Quiz was:
                             User:Green Pokemania

Congrats GP dude, anyways that's it for another installment of the Character Appreciation Quiz, please do leave your comments down below and don't forget to catch Katie next week as she gives her opinions on Harold, as always Quest On and see ya later!