Yo guys MrQuest back again today with this week's installment of the Character Appreciation Quiz, this time we'll be focusing on everyone's favourite home-schooled guy/ teen freakshow; Ezekiel. Of course as he only competed in two seasons; TDI & TDWT, I'll also be doing a section for general as well.
TDI
Q1- In Haute Camp-ture, which contestant did he try to cuddle up to in the hot-tub?.
Q3- Which two female members of the Killer took action against his sexist comments?.
Q4- What did Duncan tell him he had to learn a lot about, before his elimination?.
TDWT
Q1- What famous movie character does Ezekiel parody in Hawaiian Punch?
Q3- In I See London..., what did Chris promise him would happen if he managed to kidnap all the contestants as Jack the Ripper?.
Q4- In said challenge where was Ezekiel caught?
Q5- After his elimination, Ezekiel went A-wall alongside which other contestant?.
General
Q3- Ezekiel's voice actor; Peter Oldring voices two other characters, which characters are these?
Q4- During TDROTI where is he revealed to be living in Camp Wawanakwa?.
User Spotlight
I'm happy to announce that the winner of last week's Eva Character Appreciation Quiz is: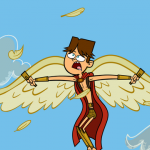 *Cody
                       *Cody is a noted fan of well Cody

Congrats Cody dude, anyways that's if for another installment of the Character Appreciation Quiz, don't forget to leave your answers below and you can catch myself(MrQuest) next week as I give you my views on party dude; Geoff, as always Quest On and see ya later.