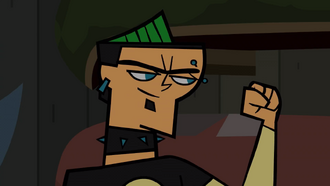 Hi guys, Quest back again with this week's instalment of the Character Appreciation Quiz. For todays instalment we'll be focusing on Duncan the Bad boy, with four different sections, each having five questions.
TDI
Q2- Who did he call "Princess"?
TDA
Q1- Give the name of Duncan's super-hero persona?
Q2- What was his reason for bullying Harold during TDA?.
Q3- What sort of spider did Duncan have as a pet and what was it called?
Q4- Who made Duncan faint during the bank heist challenge?
TDWT
Q2- Which team was Duncan originally going to be on before quitting?
Q3- What did he ride across the great wall of China?
Q4- Who catches him kissing Gwen in the confessional?
Q5- Name the band that Duncan was a part of, as found out in I See London...
TDAS
Q1- What did Duncan use to blow up Chris' "cottage"?
User Spotlight
I can officially announce that the winner of last week's Dawn quiz, is:
Congrats Jimboy dude, anyways that's it for another edition of the Character Appreciation Quiz, please do leave your answers below and don't forget to catch RBW next week as he gives his opinions on the fairy-tale princess; Ella, anyways as always Quest on and see ya later.