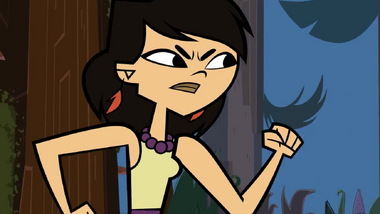 Yo Questers, Quest back today with this week's instalment of the Character Appreciation Quiz, this time focusing on the athlete; Sky. As Sky has only competed in one season, I will also be doing a general section as per usual in this case.
TDPI
Q2- In the same episode, who does Sky try to pick as her partner, before Chris explains the selection process?.
Q4- what sort of reaction does she give when being nervous?.
Q5- In Scarlett Fever what did she say made her feel therapeutic in her confessional?.
General
Q1- In which episode of the Ridonculous Race, does Sky's sister appear as a background character?.
Q2- Of what descent has Sky hinted she came from, throughout the season?.
Q3- Which family member of a previous contestant share's Sky's outfit design?.
Q4- Who does Sky's voice for the Total Drama series?
User Spotlight
I can officially reveal and this was close; that the winner of last week's Sierra quiz was:
                              * Smarticles

Congrats Smarticles dude, anyways that's it for another instalment of the Character Appreciation Quiz, don't forget to leave your answers below and catch Glenn next week as he gives his views and opinions on the Compulsive Liar; Staci, as always Quest on and see ya later.
Ad blocker interference detected!
Wikia is a free-to-use site that makes money from advertising. We have a modified experience for viewers using ad blockers

Wikia is not accessible if you've made further modifications. Remove the custom ad blocker rule(s) and the page will load as expected.