Yo Questers, Quest back today with this week's installment of the Character Appreciation Quiz, this time focusing on the devious farm-boy; Scott, featuring two sections based on both TDROTI and TDAS, with 5 questions each as usual.
TDROTI
Q1-In the episode; Truth or Laser Shark, what was Scott's excuse for returning to the cabin, looking muddy ?.
Q2- Which camper to Scott initially try to frame for nicking the campmates possessions, before accusing Dawn in Backstabbers Ahoy! ?.
Q3- What was the name of the website, that Scott used to try and distract Cameron in order to take his quiche in Eat, Puke and Be Wary?.
Q4- Which of his fellow Toxic-Rat team-mates did he get tied up with in Finders Creepers?.
TDAS
Q3- Which personality of Mike's did Scott wake and how did he do it?.
Q4- Which part of the challenge in Food Fright was added to the course, thanks to Scott saying it was too easy?.
User Spotlight
I can officially reveal that the winner of last week's Scarlett quiz was:
                                  *SmarticlesParticle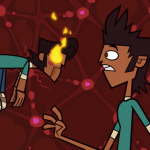 Congrats Particles dude, anyways Questers that's it for another installment of the Character Appreciation Quiz, don't forget to leave your answers in the comments below and catch Cody next week as he gives his opinions on Zombie-nut; Shawn, as always Quest on and see ya later.
Ad blocker interference detected!
Wikia is a free-to-use site that makes money from advertising. We have a modified experience for viewers using ad blockers

Wikia is not accessible if you've made further modifications. Remove the custom ad blocker rule(s) and the page will load as expected.