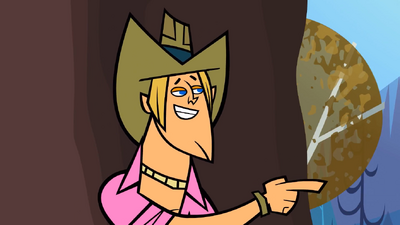 Yo guys, MrQuest back again today with this week's instalment of the Character Appreciation quiz, focusing on Total Drama's resident party boy; Geoff. Now for this character quiz, I will also be doing a section on his Ridonculous race participation, as well as two other sections based on TDI and TDA.
Q2- Which female contestant did he tease about their relationship status in Basic Straining?
Q4- Which part of Geoff's common verbal vocabulary, makes Gwen want to puke in Wawanakwa Gone Wild!? (Hint: I say this a lot as well).
Q5- In the opening sequence, where is Geoff seen?
Q4- During the finale, what did Geoff suggest he and his fellow contestants do?
Q1- What do both him and Brody usually do in celebration of them winning a leg of the race?.
Q3- Who does he, alongside Brody sacrifice his place in the race for in Ca-Noodling?.
Q4- In Maori or Less, which other contestant begins to look up to both him and Brody?
User Spotlight
Edit
Choosing last week's winner, was a tough one, but I can officially reveal that the winner was:
                                   File:Skylander Lord User Spotlight Imagery.png
                   *Skylanderlord is a fellow LD lover and a fan of Geoff

Congrats Skylander dude, anyway that's it for this week's instalment of the Character Appreciation Quiz, please leave your answers in the comments below and don't forget to catch RBW next week with his opinions on goth girl; Gwen, as always Quest on and see ya later!