This article/section features

spoilers

. Continue reading at your own risk.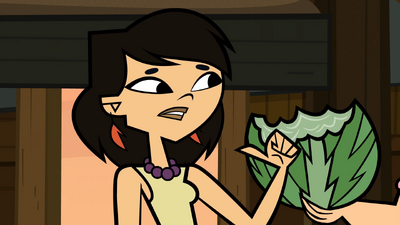 Pfft, I wish I was watching that James Bond movie. That was actually good.
After a recap where I'm reminded of the leaving of SCARLETT AND MAX NOOOOOOO, we get a cameo from Sasquatchanakwa The Yeti. Meanwhile, Sugar is being fat and Sky is being boring.
If it weren't for Shawn and Jasmine I would totally give up hope for this season. So Shasmine agree to split the money should one of them win. "Yeah! *Cough* Pomegranate?" That made me laugh harder than it should have. 
Oh hey Chef, forgot you existed because you're always just STANDING THERE I MEAN GAWD! Chris we get the pun you don't need to explain it to us we're not idiots. 
Chris explains the challenge and it begins. "I kinda miss that wizard kid. Force field!" Do not mention that.... character in my presence. Is it just me or did the arm that punched through the side of the crate look like Ezekie- OH GOD NO WRITERS YOU'RE ABOVE THAT IF YOU DO THAT I WILL PUNCH YOU IN THE SOUL
Ewww Sugar has ugly teeth. And an ugly face. And an ugly everything. Why do the crocodiles make dog sounds? "Killer crocs!" Hey, I love that Batman villain. YAY SUGAR BROKE HER NOSE WHOOOOOOO YEAH 
"A flowershop and cage fighting shop called Roses are Red, Bruises are Blue!" Shawn I don't know what you are talking about THAT IDEA IS FUDGING AWESOME! I don't know where you went between seasons, Alice Prodanomanomachoman, but you're a little rusty on the writing; you're really dumbing down Chris. NOW YOU'RE JUST SOME HOST THAT I USED TO KNOW
LOLZ AUSTRALIA
So during the recap I look up what the voice actors look like and I realize that A) Sugar's voice actress looks exactly like her, and B) Jasmine's voice actor is white. Anywhoo, Shawn and Jasmine come to a big void of lava and they cross it but Jasmine hits her head on a piece of wood. I bet after this season ends she'll be hitting it on Shawn's piece of wood AYOOOOOOOO
Sugar and Sky cross the lava pit by the power of lazy writing, and they run into a cave full of bears GASP DOES THIS MEAN A RETURN OF Scuba Bling Pasta  ROBOT BEAR?!
All right this episode sucks and I'm uninterested in it, so I'm wrapping this review up.
ROFL SHAWN SAID HANGING OUT ITS FUNNY CUZ HE'S HANGING FROM A ROPE I GET IT LOLZ
SHE WANTS TO PUT MAKEUP ON ANIMALS I GET IT BECAUSE IT'S AN UNUSUAL JOB THAT NOT MANY PEOPLE HAVE
FART JOKES LMAO TOTAL DRAMA IS SO MATURE
JASMINE FALLS OFF A CLIFF AND DIES NO
BUT SHE LANDS ON SKY AND SUGAR SO IT'S OK
ZOMG THE CROCODILES HAVE JUSTIN'S THEME
YAY SHAWN SWAGS OUT AND WINS
SUGAR KILLS SKY I LIKE YOU ABOUT 12% MORE SUGAR
NO SHE SURVIVED 
MUCH TREE
SUCH ANGRY JASMINE
MANY ELIMINATION
AMAZE
ZOMG EZEKIEL'S BULL
I LIKE THAT JINGLE CHRIS IS A GOOD SINGER
NO NOT JASMINE PLEZ DON'T GO HOME NO
So yeah this episode was definitely not the best. There was way too much Sugar and Sky, the challenge was boring, the jokes weren't very good, and the elimination was predictable. Still, not a terrible episode, with some good development of the relationship between Shawn and Jasmine and a few good lines.
Final Score: 5/10
Pros: Shawn, Jasmine, Jasmine-Shawn Interactions
Cons: Sugar, Sky, Boring Challenge, Dumbed-Down Jokes, Predictable Elimination
McLean-Brand Chris Head: Jasmine (Good Interactions, Good Lines)
Cannon of Shame: Sugar (You've Come to Know the Reason if You've Been Reading my Reviews)
Ad blocker interference detected!
Wikia is a free-to-use site that makes money from advertising. We have a modified experience for viewers using ad blockers

Wikia is not accessible if you've made further modifications. Remove the custom ad blocker rule(s) and the page will load as expected.