This article/section features

spoilers

. Continue reading at your own risk.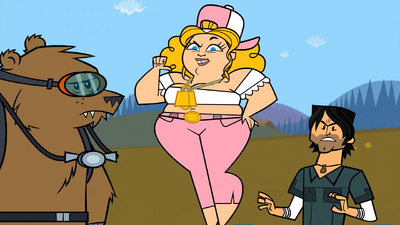 Shawn's the only contestant left in this season that I care about. That upsets me. A lot.
Oh, and welcome back, BTDubs.
After our recap, Sugar tries to kill Sky. "I wasn't actually gonna hit her. On camera." That was actually a good line. "If it comes down to a footrace or a math test, I think I can take him." WHEN IN THE NAME OF HEAVEN HAS TOTAL DRAMA EVER HAD A CHALLENGE INVOLVING A FUDGING MATH TEST?
D'aaaawwwww Shawn. I want that zombie-proof bunker.
"Your challenge will be in three parts: Head to head to head." THAT'S INAPPROPRO
Chris announces the challenge, and I realize how weird Chris looks holding up three fingers since he only has four. I like that fat intern. He's funny. "They both have so many weaknesses to choose from!" SO DO YOU, LIKE LIKING DAVE YOU SICK ANIMAL
Are you serious Sky? Was that the best challenge you could come up with? "I came in second in the provincial hurls event!" Wow, you suck.
So the challenge begins. "Turtle hurdle! Punny and painful!" Apparently you don't know what puns are, because that wasn't one, it was a rhyme. How did Shawn come in second? Sugar was running faster than him when Sky was zipping past them. I mean not that I'm complaining, since it would've given Sugar more points, butttt...
Awww, can't we at least try Shawn's challenge? We can go back to Area 52 and maybe Chris can use his FREAKIN AWESOME JETPACK to avoid the landmines and lasers again.
"Jetpacks! YES!" RIGHT, THAT'S WHAT I'M SAYIN
"Jetpacks no!" Awwwwwww......
The contestants begin Shawn's challenge, and Sugar is stupid some more.
"Aw, crud!" Does Cartoon Network allow them to say that?
What is holding those tree branches up?
So after recap, Shawn falls to the ground and dies. "You do know what gymnastics are, right?" Yes, and that's not what you're doing. You're goddplaying. Dangit, I had forgotten about Sugar for a while. "Help you? It's like she doesn't even know me." I like you, Chris.
YAY SKY DIES BUT NO SUGAR WINS BUT YAY SHAWN GETS SECOND PLACE
"We got a three way tie!" How convenient.
"The only talent I have is kinda gross!" Well you know you also can kinda JUMP AROUND FROM TREE TO TREE LIKE A NINJA
YAYZ THE RETURN OF Scuba Bling Pasta Robot SCUBA BEAR 2.0!!
Yay I like the fat intern. 
ZOMG CHEF'S SINGING IS MAGICAL HE AND ELLA ARE THE BEST SINGERS EVAR
So Sky godplays some more. "Black hats? Yawn." Preach, brutha.
YAY CHEF HAS ANOTHER LINE FOR THE FIRST TIME IN 7 BAJILLION YEARS
Dawg Shawn's got some sick muscle.
SHAWN THAT WAS ABSOLUTELY MYSTICAL I LOVE YOU MARRY ME SEE EVEN SCUBA BEAR'S CLAPPING AND YAYZ SHAWN HAS A PLACE IN THE FINAL 2 MAKE LOVE TO ME SHAWN
Where did Sugar's hat come from? Eww Sugar rapping. I feel like throwing up. Even Ezekiel's rapping was better than yours, you know BACK WHEN HE WAS HUMAN
NO YOU TERRIBLE FIEND YOU KILLED SCUBA BEAR 2.0
YAAAAAAAAAAASSSSSSSS SUGAR IS ELIMINATED WOOOHOOOOO THANK THE LORD JESUS GOD
Overall this episode was pretty good. Good lines and an entertaining challenge, and I liked Sugar and Sky's interactions. Sky godplaying really bugged me, but overall, I enjoyed this episode. Next time, FINALE!!!!
Final Score: 7/10
Pros: RETURN OF SCUBA BEAR WOOOOOOOOOOOOO oh and shawn and the challenge was cool and there were good interactions I guess
Cons: Sugar, Sky, Sky's godplaying
McLean-Brand Chris Head: Scuba Bear 2.0 (FOR BEING AWESOME)
Cannon of Shame: Sky (For godplaying and NOT BEING AWESOME)
Ad blocker interference detected!
Wikia is a free-to-use site that makes money from advertising. We have a modified experience for viewers using ad blockers

Wikia is not accessible if you've made further modifications. Remove the custom ad blocker rule(s) and the page will load as expected.