This article/section features

spoilers

. Continue reading at your own risk.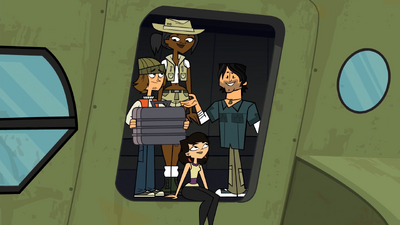 FINALE W00T
During the recap, I realize that the Final 3's names all started with "S". Anywhoo, THIS IS TEH FINALE MAYBE THAT MEANS THE RETURN OF MY DARLINGS JASMINE, MAX, SCARLETT, ELLA, AND TOPHER YAYZ
Sky maybe you'd have less trouble sleeping if you stopped going over to the confessional.
Chris blows the horn and that means the beginning of the FINALE CHALLENGE YEAAAA
Ewww Sky's onscreen.
"English much? Boom!" Shut up, who asked you to live?
Shawn pronounced Beardo's name weird. So Chris brings out a TV with the helpers on them. DOES THAT MEAN WE WON'T GET A PHYSICAL APPEARANCE FROM MY DARLINGS?! 
Shawn lands on Jasmine (how convenient) and I'm pretty sure I SAW MY MAIN SQUEEZE TOPHEY IN THERE AND I ALSO SAW MY BABY MAMA ELLA YAY
Sky gets Dave (DANG IT NO NOT ANOTHER APPEARANCE FROM HIM NOOO) and Jasmine and Dave show up. Jasmine saying "Totally" in her Australian accent sounds weird.
My opinion of Chris just went up about 172% when he made fun of Sky and harassed Dave there.
Dave, Sky has germs on her lips, but I don't see you screaming for sanitizer. WEIRD.
"THE DOUBLE DUO OF DEADLY DYING DANGEROUS DEATH!" Chris I like you.
Oh hey Chef forgot you existed since YOU HAVEN'T HAD A LINE IN FOREVER
"Good luck! Stay safe! Are things I'd say if I cared!" Right?
The challenge begins and stuff I guess WOO FINALE YAAY yeah the appeal is starting to wear off.
"Let's just do what they did! Just get on!" Okay Dave, first of all, you're an uninspired ripoff, and second, that's the only time Sky's ever gonna ride you AYOOOOOOOOOOOOO (That was my best one yet)
So Jasmine crashes into some piles of snow and turns blue (THATS RACIST TO SMURFS) and I'm pretty sure Dave makes a prostitution innuendo. Dave and Sky get stuck in a giant snowball. DAVE YOU'RE SUCH A FUDGING WUSS
Are you serious? Dave's bald now? This joke is getting old! Is what I'd say if I cared about Dave. (See what I did there?)
"I think we're both safer if you go on my shoulders!" YEAH BECAUSE YOU'RE 1000000000000000000000000000000000 FEET TALL I MEAN LORDY
So Jasmine brings up splitting the money again for what reason? Why, to make Shawn feel more guilty. 
Chris makes me laugh out loud ("Isn't it great, Shawn? ISN'T IT?!"). DAVE ARE YOU SERIOUSLY FREAKING OUT ABOUT THE MUD RIGHT NOW? YOU DIDN'T FREAK OUT WHEN SKY WAS LIKE FEELING YOU UP A COUPLE MINUTES AGO
ZOMG IT'S Scuba Bling Pasta Robot Scuba JETPACK BEAR 3.0 THIS EPISODE JUST GOT 1000000000000000 TIMES MORE AWESOME I WANT HIS JETPACK
DANGIT SKY AND SHAWN HE ONLY TOLD JASMINE AND DAVE TO TAKE A SEAT YOU TWO STAND YOUR BUTTS BACK UP
Chris, like, makes Jasmine go on her period towards Shawn again. Then he makes Dave go insane. HECKS YEAH YOU GO CHRIS 
Is it bad that I'm really enjoying this torturing of Dave and Sky? Like, REALLY enjoying this?
So Chris makes Jasmine and Dave hinderers. "Your what? That is the coolest idea I have ever heard!" FINALLY YOU SAID SOMETHING THAT IS NOT WRONG DAVE
How the heck do Dave and Jasmine control the weather?
YAY SKY GETS SQUISHED BY A TREE BUT NO SHAWN GETS SQUISHED TOO
Why is Dave being a total bish to both Sky and Shawn, wasn't it just Sky that made him go insane? If I were Dave (and THAT'S a scary thought) I would totally just make Sky lose and let Shawn win.
Sky collapses the mountain of ice by.... throwing a tantrum. HOW OLD ARE YOU, LIKE 2?
So Shawn and Sky die in an avalanche and Dave and Jasmine get the money. Hey at least one character I actually care about got it. BUT SUDDENLY SHAWN EMERGES ALIVE WITH A FLOWER FOR JASMINE HE WINS YAAASSSSSSS SHAWN YAAAAAAAAAAAAAAASSSSSS 
So we end on Sky, Jasmine, and Shawn leaving in a helicopter. Wait, how did they forget Dave? Oh, right, BECAUSE HE'S A TERRIBLE CHARACTER AND DESERVES TO DIE YOU GO JETPACK BEAR 3.0 MAUL HIS BUTT WOOOOO #JETPACKBEARFORSECRETARYOFSTATE2016
This was a rather disappointing finale. I expected a bit more out of it, especially with the material that's been coming out of this season. However, it wasn't terrible, and there were some enjoyable parts. A good end to a good season. Expect an overall analysis of the season coming in the next couple of days.
Final Score: 7.5/10
Pros: Shawn, Jasmine, Chris, Jetpack Bear 3.0, Shawn Winning, Shawn-Jasmine Interactions, Chris-Dave and Sky Interactions, Fun Challenge
Cons: Dave, Sky, Sky-Dave Interactions
McLean-Brand Chris Head: Chris (Funny Lines, Funny Interactions)
Cannon of Shame: Dave (For Being a Whiny Little Bish)