Hey guys, this is just a little thing I thought I'd do each day before Total Drama All-Stars airs on Cartoon Network! So, each day before the premier on September 10th, 2013 I will be talking about one of the 14 contestants that are going to compete. Today's contestant is; Gwen.
Gwen is tough, sarcastic and really quiet. She, for sure, is one of the top contestants the show has seen, and while lately she hasn't been doing that great, she will always hold a place in my heart. I really do think that season five will be her chance for redemption, but let's talk about her past on the show.
In the olden days of 
Total Drama Island
, she was definitely the main protagonist of the show. Her [[Gwen and Heather|conflict with
Heather]] and her
relationship with Trent
really made the show interesting for me and for a lot of people, I think. She was so much more than just the "goth girl" on the show and she really was a great competitor. I felt like the entire season was building up to her finally taking Heather down (which she did) and winning (which she didn't do). After this season, a lot of things went downhill for her which I didn't think was right.
For many people, Gwen was a character that
Total Drama Action
did wrong.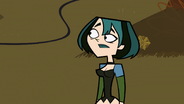 And I very much agree. I felt as though all of her actions were justisfied, but many people beg to differ and say that she was the one that caused Trent to become a horrible character (I still love him though). I really hate how Justin took her and Trent out, when it was all Owen's fault that they broke up, which is partly why I don't like him either. So yeah, I totally don't blame her for her actions this season and I personally don't think any of it is her fault.
I really think that 
Total Drama World Tour
is where a lot of people turned
on Gwen the most. During the first half of the season, I absolutely adored her and her friendship with Courtney. They were both cool, calm and collected and even wanted to help each other out. During the second half of the season is where the trouble for her began. When
she and Duncan kissed
for the first time, I saw sparks. You can tell that they really like each other a lot and a lot of people blame her for Courtney and Duncan breaking up. Now, I personally think they're all at fault, but I think Gwen is the least at fault, because while she did enjoy the kiss, she felt bad about betraying Courtney like that and wanted to tell her. I think she would've too if Alejandro didn't make Tyler tell everyone about it first. The person I blame the most for the triangle is Chris though, because he was the one that broke the lock and wanted Duncan back.
Now in Total Drama All-Stars, I have really high hopes for Gwen. While it's really unlikely, I really want her (or Courtney, Scott or Sierra) to win this season and I think that she has a good chance of making it to at least the merge. I really hope she rekindles her friendship with Courtney, because I think that'd be good for both of them. I'm predicting that she'll place 7th - 1st.
Ad blocker interference detected!
Wikia is a free-to-use site that makes money from advertising. We have a modified experience for viewers using ad blockers

Wikia is not accessible if you've made further modifications. Remove the custom ad blocker rule(s) and the page will load as expected.